ABDUL RAZAK BABURAO KORBU

SAI SATHYA SAKHA



(Sai – My True Friend)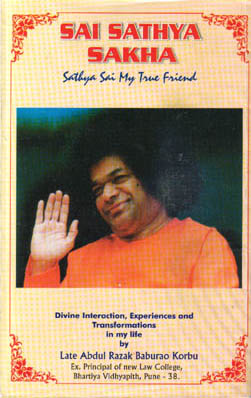 ---
Blessed by Bhagawan Baba on 25th May 2001, Friday at 7.25 a.m.
---
INDEX
1. Tending by Baba
2. Towards Baba
3. New University and I
4. Experiencing the Miracle
5. One More Miracle
6. Order for Me
7. Hard Days
8. Big Interview
9. A Farewell
---
PREFACE
My first book 'SAI SATHYA SAKHA' was published in Marathi with Baba's written Blessings, on 18th June 1988. Five thousand copies of this book reached the devotees directly within a span of two to three years; it was not sold through any book shop. This great response and enthusiasm received by this book is indeed a SAI Miracle.
Many devotees and well wishers sincerely urged me to write further. In keeping with the overwhelming desire of all these friends, on Thursday 13th may 1993, I commenced writing this book in Marathi. It was published on Thursday 25th August 1994.
I vouchsafe that every event narrated in this book is my experience only; They are not the product of imagination or hallucination or borrowed. Their authenticity can be proved by witnesses.
Abdul Razak Korbu

---
PROLOGUE
Swamy has been transforming individuals into better human beings. He never reforms. Transformation is through love and is permanent. Reformation is mainly through punitive measures, and many a times impermanent - the individual may slide back. Transformation is change of heart, done by constant and consistent cleansing with love as the cleanser. Reformation is changer of monkey mind, with fear of punishment as the tool. Love creates more love; fear creates more fear.
This book is a real story of transformation by Swamy of Professor R. B. Korbu, as told by himself, from a very poor uncared urchin into a highly educated and self realised person. It is amazing how and why Swamy chooses persons like Professor Korbu irrespective of their social and religious background, and transforms them. This book confirms another important truth - "Once under Swamy's umbrella we remain for ever under His umbrella."
Religion divides. Spirituality unites. Swamy is the Infinite Spirit of Union. Reading into this book (not merely reading it as we often do) we can experience the 'One-ness'.
This is a translation of the second book written in Marathi by Professor R. B. Korbu, who is no more alive. There is a human tendency to suppress, alter and change truth to suit one's requirements. From this book it is apparent that Professor Korbu did not have this tendency. So also this translation.
Prasadam

---
1. TENDING BY BABA
Many times, Baba said that he took care of many of His devotees since their respective childhood. However, only very few of such devotees, who went to Baba either in their youth or old age, realised as to how Baba took care of them or tended them. Only at the correct moment will a devotee know that he has already been taken under care by God.
I was nearing the age of sixty years, when I realised this that I am one of those fortunate pre-surveyed gems and Baba's play-thing thereafter. To understand that Baba's unique method of play is applicable in my transformation as well, you must know my first forty four years of life. That is from the year 1934 to 1977 – when I was unaware of Baba. I sincerely hope that, at least for the sake of Baba, you will have the patience to read through this narrative of mine.
My date of birth, as mentioned in the seventh standard vernacular final examination certificate, is 29th September 1934. I was born as a Muslim; my father hailed from Udgaon (Kolhapur District, Maharastra State) and my mother from Gokak (Karnataka State). My father was a tailor, and carried out his profession at Jaisingpur (Kolhapur District). Jaisingpur is my present place of residence. Just two years after my birth, my father, who had many vices, died of tuberculosis. We had no relatives to seek help. Therefore, discarding her veil mother took up working for meagre wages and had no time to look after me, the only child. I become very indisciplined. When I grew up into a little boy, to protect other neighbouring small children from me, I was admitted in the nearby Marathi school. For school admission, my mother had to sign a declaration regarding my date of birth in the presence of the District Officer – it was then decided that my date of birth was 29th September 1934.
We were living in a hut. My mother was not much concerned about my school attendance. However, my neighbours used to conduct me into the school, only to protect their children from me. The cold and stale food given to my mother by her employers was the only sustenance we had – I used to eat it, that too happily! Some nights, to appease my hunger, I stole jaggery and ground-nuts from shops. At times I was caught and beaten by the shop-keepers. Reading this, you may feel sorry and grieved. I was a playful, mischievous, happy go-lucky boy and despite of extreme hardship I enjoyed life as I lived then. I was contented with what I had and was never aware that I was deprived of new well fitting clothes, fresh and tasty food and other simple amenities of cleanliness. I did not envy anyone or implore for anything. I was friendly and intimate with all my companions, and admired heartily if anyone was foppish. I was happy if others were happy and if anyone cried I too cried. There was no reading or rites and I was fearless. Who was keeping me contented, happy and without envy, despite of poor and adverse circumstances? Certainly my Baba, even though I did not know Him then.
This is nothing, many more miracles were yet to happen. In the beginning I was unwilling to go to school, but started enjoying it later. The main reason for this change in my attitude was our reverend Head Master, Sri Padmanna Chougle Guruji, who also hails from Udgaon. He took special care of me. Some even prompted Guruji not to leave me during recess also.
The Head Master had a heart of Gold, but had a cane in his hand with which he used to beat me. I had to learn Sri Ganesa (ABC Rudiments). I did not have a slate, note books, pencil, books or school bag, because of my extreme poverty. Guruji collected second-hand items and gave them to me. Friendly wealthy students shared their lunch with me. I never lost my self-respect and begged for anything.
I was ashamed of being caned in the presence of other students, and started to go to my classmates' houses, whenever they are free, for studying. I could read the lessons only once – poems, arithmetic tables, sums, additions, subtractions, other calculations etc. May be because of the cane and consequent humiliation, I was able to remember them well. I became a 'Aikpathi' or 'Ekasanthagrahi' (one who can memorise hearing only once). My progress was such that within two years I ranked first in every subject at the annual examinations. I continued to rank first in every annual examination upto the sixth standard.
The seventh standard annual examination was vernacular final and was to be held at Kolhapur, the district headquarters. My Guruji (Head Master) took special care and guided me through out the year. I was permitted to use the school blackboard and chalk for my study practice. As I had no money at all, it was impossible for me to meet the expenses in travelling by train to Kolhapur and staying there for three days during the examination. Once again Guruji helped me by giving all the money I needed.
That was the year 1947, and it was my first visit to Kolhapur. I heard that a wrestling match, between Bhola Punjabi and Mallappa Ladakhe, was being held in the nearby Khasbag maidan (play ground) at that time. The wrestling match was to commence at 5 p.m, whereas my examination time was upto 6 p.m. It was beyond me to overcome the temptation of witnessing this match between two renowned wrestlers. That day, in the examination, I completed writing the answers in great hurry by 5 p.m and reached the ground forthwith. It was already full with spectators; with courage I managed to sneak in without a ticket, and witnessed the match. After the examinations were over, I returned to my home town by train that too without a ticket. After about a month, the result of examination was published in the newspaper 'Pudhari' and I was at the school when the newspaper was received. My roll number was not in the published list of students who passed out successfully in the examination. Oh, My God, my Guruji was thoroughly disappointed at this turn of events. When I went near him and said "Sir, this could be due to a printing error", he angrily snapped at me. On being informed by another student about my leaving the examination hall one hour early one day to attend the wrestling match, Guruji understood the reason for my failure in the examination. As I was sure of my success in the examination, with tears in my eyes I requested Guruji, "Please go to the newspaper office at Kolhapur and verify. There is some error." He did so, as he was also of the same opinion. The very next day, admitting their error, Pudhari published my roll number as successfully passed in the examination in place of a wrongly published roll number.
I once again assert that my first rank success upto the seventh standard is indeed a miracle. My capital built up from Guruji's caning, his continued help, my Aikpathi way of study are not enough for achieving such great success. Surely, this was made to happen by BABA, my god!
All the above is in retrospect, but true in every word. I wish you understand one important facet of my nature. In my childhood, no one admired or appreciated my success. My mother did not understand as to which standard I was studying in, or my achieving first rank in the final examination. So far, no one praised me directly. But the understanding in me always is that I am the cause for anything bad happening to me for which I repent and wept, and anything good happening is by accident. I remember Baba, and tears of happiness start rolling out of my eyes.
After I successfully passed out the seventh standard examination, many persons advised my mother that I should get employed in writing accounts for some local merchant. Mother was also obstinate in compelling me to do so. I was unable to decide on this matter. I was impressed by the well dressed boys, and especially girls, attending the Jaisingpur High School, which was in the vicinity of our Middle School, and developed a desire for completing the matriculation examination. Because of our poverty, none were in favour of this. At this juncture, my friends came to help; (there were no girl students in our school). No one praised me for having passed the seventh standard examination in the first rank. However with this as my capital, along with my friends I went to Sri Hardikar, Headmaster of the High School, and requested for concession in school fees, and he in turn advised me to approach the President of LMC, Dr. Bhirdi (later I used to call him 'My Anna' i.e. my elder brother). Dr. Bhirdi appeared to be a pious and considerate person. He instructed Me, "do not worry about the fees. just take admission" I took admission in the Special Standard, which for one year prepares students, who have successfully passed seventh standard final examination, for admission to the eighth standard.
During 1948 to 1952, when I was studying in the High School, Jain merchants were in full hold of Jaisingpur city and High School management. The teachers were all Brahmins. Religious prejudice was very strong. Muslims were very few, with about 10 to 15 households – of which ours was a mere hut. I grew up in such a prejudiced social environment and had none near to me except a few school friends. They too be friended me without the knowledge of their parents, and on occasions such as marriage of their brothers or sisters invited me orally for dinner. As I sat for dinner along with other invitees, often I was asked to get up and leave; I was then told to have dinner later along with the bandsmen, who were Muslims. My stomach was hardly worried about such insults. Only when my tummy was full to the brim did I get up, cleaning my face with the sleeve of my shirt!
My application for fee concession was considered after I took admission in the Special Standard, and only 50% concession was granted. Oh! my God! Now what should I do? I did not despair, and with firm determination started giving tuitions to one or two school boys, who paid me only five rupees each. At that time, there was only one cinema theatre in our village – 'Vikram Talkies', owned by a Muslim and managed by a Hindu from Ichalkaranji. (Even now this cinema theatre is functioning.) Mustering courage, I met the owner and requested him to employ me as a door-keeper, to my surprise and good luck I got the job. During those five years in High School, my daily routine was attending classes forenoon and afternoon, and working at the cinema from 6 p.m to 12.30 midnight. I was never able to afford buying text books and other study material, however my God given gift of 'Aikpathi" stood by me. I somehow managed to read the text books only once at some friends house. Once again I stood first in the eighth standard annual examination; not only the teaching staff but also many persons in Jaisingpur were surprised at my forthcoming from them. How can I blame them for this attitude? I was branded as a mischievous Muslim boy whose father had many vices. At school games I used to fight with other boys. To keep me awake till 12.30 midnight at the cinema theatre job, I started consuming betel leaves with tobacco and smoke cigarettes and bidis. I never had proper dinner; instead I used to eat savories like misal, bajji, bread etc. When the theatre closed after midnight, I used to go to some friends house and slept there. Whenever I took bath, it was either at the public well on the outskirts of the village or in the Krishna river.
By the time I entered the ninth standard, I had a few intimate friends, boys as well as girls. Jinpal, who today is a renowned practising pathologist at Sangli, was the best of all of my friends and continues to be so even to-day. Similarly, Dr J. B. Patil, who is a Sai devotee. Although I belonged to a religion different from theirs, all my friends helped me and took care of me. I was a little popular amongst the girls. Some of them used to bring sweetmeats for me and lunch packs for me during picnics, without the knowledge of their elders. But the special contribution by them was completing my home work, drawing and other class assignments and submitting them in my name to the concerned teacher.
Now I must tell you a very amusing incident that took place during the Annual Inspection of our High School. The Management, Head Master and all the teachers were scared and tense whenever such Inspection took place. Saturdays was our morning school, but I used to report at 09.30 a.m only, because of my late night duty at the theatre. Guess how I looked, with red swollen and sleepy eyes, unbrushed teeth, unbathed body, unwashed clothes, disheveled hair and empty stomach?
That Saturday also I reached the school at 09.30 a.m minus text books or note books, and sat on a back bench. Sri Rawal, was then teaching a geography lesson, ordered me "Razak, come and sit on the front bench," and I immediately complied. On my right the girls were seated and on the left boys, with a small dividing passage between them. I was fond of staring at girls, but was afraid of physical closeness. I looked around, saw that all were very well dressed, the girls in saries with flowers in their braided hair. I was unaware of the impending Inspection; and I was looking like a railway porter. The Inspector, Sri Mule (pronounced Mooley) entered the class room and started collecting our homework notebooks. When he came near me, seeing that my attention was riveted on the girls his face became red with anger. One girl gave me my notebook; the Inspector took it and also the girl's notebook. (This girl remained my God-Friend for fifteen years.) Noticing that the handwriting, including sketch map of India in both the notebooks are the same, the Inspector angrily shouted at Sri Rawal "Who copied whom?" Both Sri Rawal and the girl became speechless with fear. On my saying boldly "This girl does my homework", the Inspector left the class room shouting "Is this school allowing this business of copying?"
The bell rang – Sri Rawal left the class room and Sri K. R. Ghorpade, our Marathi teacher, arrived. We all adored and respected him. He was a staunch Hindu and a member of Rastriya Swayam Sevak Sangh, and a very kind teacher. Shri Mule, the Inspector, came again straight to me. Finding that I had a match box in my pocket, he asked "For what purpose do you carry a match box in your pocket?" Unperturbed, I replied "For smoking bidies". "Get Out" he immediately, roared at me. Sri Ghorpade intervened and explained how I was attending the school despite of extreme hardships. The Inspector was not convinced and said "What about the school discipline and studies?" Sri Ghorpade very boldly told the Inspector "You can examine Razak on any subject. If the boy fails or gives a wrong answer, I shall undergo any punishment you may decide." Using my Aikpathi memory, I correctly answered every question put by the Inspector, to his surprise and bewilderment. I was also cool and collected; Sri Ghorpade was unable to hide his tears of joy. The following further conversation took place between me and the Inspector.
Inspector — "Now I will ask you questions on Aadhmagadhi."
I – "But, I have taken Sanskrit for study."
Inspector – "You and Sanskrit!"
I – "Why, sir, is it forbidden?".
Immediately, before the Inspector could say anything, I recited lines from the Sanskrit classic 'Kadambari' (Novel) composed by the renowned Poet Bana long ago, and followed by quotations from 'Mrichakatika' meaning. 'The Clay Cart' (this is the first ever written drama in human history and dates back about two thousand years ago). Inspector – "This is not in your ninth standard syllabus."
I – "I am studying for the Pandit examination of the Tilak Vidyapeeth."
The Inspector was very overwhelmed, and patted me on my back. After enquiring about my school fees, he said "Henceforth you do not have to pay any fees, you will get hundred percent concession." In this mysterious God's drama, I benefited by getting 100% fee concession.
I scored first rank upto the tenth standard, and in the tenth my friend Tatya Katti and I scored equal marks. (Tatya Katti later retired as Civil Engineer and settled in Jaisingpur). to honour the top scorers in the tenth standard examination, our High School rewarded them by giving a gift of Rs. 20/- to the first and Rs. 15/-to the second ranker respectively, every year. So too, this year, and the prize distribution function was presided by none other than my Anna, Dr. Bhirdi. As the function began, our Headmaster said "Both Razak and Katti scored equal marks in the first rank. Hence, it has been decided that they share equally the first prize of Rs. 20/-, that is each one will get a gift of Rs. 10/-." I declined to accept this decision saying "By this arrangement first ranker gets Rs. 10/- and second ranker Rs. 15/-, which is unjust. I will accept the gift if it is Rs. 20/- otherwise not." Anna was later convinced with my argument and as a result I and Katti were rewarded Rs. 20/- each. At that time my sole concern was money, and not the principle!
My last high school examination was eleventh standard final examination. Only my school friends encouraged and wished me well. Although my teachers Sri Ghorpade, Sri Kulkarni and Sri Pujari (Sanskrit) took some interest in my progress, the Head Master would not even speak to me. I used to feel that the entire village was against me not only because of religious prejudice but my unkempt behaviour also. This animosity was aggravated by my own actions as related below.
To get admission in colleges for degree courses, we have to do extremely well in the eleventh standard final examination. However, the Management appointed Sri Deshpande to teach us Algebra who was inexperienced in teaching. The Management did not concede to our pleas to change him. As a consequence we went on strike under my leadership and then only he was replaced with another able teacher. One more incident added fuel to this fire. Sankar Katekar, a friend of mine, was appearing for the tenth standard final examination, and requested me to help copying in the examination. Though poor, he was large hearted; he lived with his parents in the nearby Dhanager village and was from a backward community. We both were caught in the act of copying and expelled from the High School immediately. Sankar ran away to Calcutta. (He is now a famous Homoeopathic doctor practising at Chinchwad, Pune) I was out of the school for about two months. I fell at the feet of Anna, and the management relented and allowed me to continue studies in the school. I had no text books and could not study much. Because of the foregoing circumstances, in the final examination I obtained third rank with an average of 65% marks.
I took admission in the arts faculty of Rajaram College, Kolhapur, although I could have got admission for MBBS in a college of my choice, due to my financial difficulties. I was given merit scholarship of Rs. 150/- per month; in addition, two more organisations, Dawoodi Trust of Bombay and Muslim Boarding of Kolhapur, awarded me scholarships. Much later, I realised that this was all Baba's plan. The Principal, Sri V. K. Gokak, taught us English (Shakespeare). How fortunate I was! Having taken Sanskrit as second language, Prof. Shuktankar taught works by Poets Kalidas and Bhavabhuti. I learnt Marathi under Prof. Rajadhyaksha and Prof. P. N. Kulkarni. I ranked in the merit list in the first, second and third years and graduated with B.A. (Honours). [Bachelor of Arts]
A simpleton theatre doorkeeper becoming a honours graduate! what an impossible turn of events. Now, in retrospect, I have no doubt that Baba's grace' only made this possible. To understand this, let me ask you a question. Have you an explanation if such marvellous events occur in your life? To get the answer, in my opinion, one should consciously think deep inside and search. Then only enlightenment comes, and so! you become aware that a Divine power is behind it. It does not make any difference to the Divine Supernatural Power as to what name you call it. Once you like the fragrance, why argue on its name? Such is this aromatic Flower, and I name it 'Sathya Sai Baba'.
Each one of us have our physical mothers who have given us birth. But there is the Greater, Mother of all mothers, She is SANATAN – ancient, invisible and immortal – this is my simple understanding of Advaitha (Non-duality).
After obtaining B.A. (Honours) degree, I did not know what to do next. To my surprise, our Sanskrit teacher Sri Pujari visited me in my hut one fine morning and asked "What have you decided to do next?" I answered "That is the big question in front of me." He advised me "Do carefully decide whatever you wish to do. In the meantime, start teaching in our High School. You will be paid a monthly salary of Rs. 120/-" I fell at his feet for his concern and kindness for me. In June 1956, I become a teacher in our High School, and along with my seniors whom I respected taught many subjects and become popular among the students.
On my application, I was selected as a Sales Tax Inspector and appointed at Bombay on 1st January 1958. I started changing slowly, accepted bribes and enjoyed life in the big city. After about six months, I was ashamed and depressed for having become corrupt and degraded. I was convinced that such corrupt earnings are a curse and stopped accepting bribes. As I was a source of their extra income, my superiors were troubled because of my refusing to accept bribes. After making adverse remarks in his confidential report on me, my head of the department initially transferred me locally here and there, and finally to Palanpur in Gujarat; Palanpur was considered as a punishment centre.
Before joining at Palanpur, I met Sri Vaishnav, the commissioner of Sales Tax, Bombay, who was reputed to be a strict disciplinarian, and humbly said "Sir, I will obey the transfer order although I have not been accepting bribes or harmed anyone. I will be thankful if you kindly tell me as to what adverse remarks have been written in the confidential reports on me by my superiors." "Confidential reports are confidential" the Commissioner said. When I asked "Have I no rights to represent my side in case of such injustice to me"' he replied, "First join your duty at Palanpur and then you may make out your case in writing to the Deputy Commissioner of Sales Tax, Ahmedabad."
As I came out of the Commissioner's office, Sri Bhandari, Personal Assistant to the Commissioner, took me to his cabin and the following conversation took place.
Sri Bhandari – "Mr. Korbu, please treat this as confidential. Your case is unique in the entire state; that is why I am interested in the confidential reports you received from various offices."
I – "Sir, I have not taken any bribes. How is it that I have been punished so harshly?"
Sri Bhandari – (In Marathi) "Let me tell you a secret. The charges of bribery are ordinary and unimportant. That is not the reason for your transfer. If we had followed this style of transfers on corruption charges, Korbu, Sales Tax Department will be like a fast action movie cinema. Right from the Commissioner down to the Peons will have to be transferred almost daily and all of them will be in transit period of joining time! Within a span of one year you worked in 5 or 6 wards in Bombay. Five transfers in a year because of only one similar complaint against you from each place, and that is having immoral affairs with the girls in the department wherever you were posted."
I thought – Oh my God! These are absolutely false charges on me of course, I was friendly with the ladies and vice versa, and that is all. Except one, who gave me her residential address, I did not even know their full names or addresses. I shook hands with the Personal Assistant and told him "Good bye and thank you sir. I shall show the department what I am worth and what I can do to rectify this injustice." He shook my hands again and said "Wish you the best of luck." From his facial expression I gathered that he was less concerned about the injustice meted out to me and more concerned about the false charges of immoral behaviour.
Immediately after joining duty at Palanpur, as per rules I submitted a ten page representation to Sri Patankar, Deputy Commissioner of Sales Tax, Ahmedabad. He was modest and honest, and sent a team to Bombay to verify the facts in my representation. The team reported that the allegations against me are false.
Sri Patankar visited Palanpur and sent for me and I called on him at the Government Guest House, where he was camping. After informing me that the complaints against me were false and that I am clean, he said "I have decided to transfer you to any place of your choice in Maharastra." I replied "Thank you sir. I will be happy if you transfer me to Sangli, which is six miles distant from my home village." Shortly I was transferred to Sangli. I started my to and fro trips from Jaisingpur to Sangli from 1st May 1960.
How is Baba connected with the above events? Then, though unknowingly, I complied with Baba's advice - "When you fight against injustice, fight till you win". Soon I realised that I was not suited for this kind of job. After three years, I took request transfer to Pune, with the intention of studying L.L.B after completion of which to resign and leave the job.
At Pune, I took admission in the JCS Law College and stayed in their hostel. I successfully completed the L.L.B. examination in the merit list. Then I resigned from Government service, and started my private practice at Sangli as a 'Sales Tax & Income Tax Consultant'. That was in the year 1965 and I had Rs. 300/- only with me. My family consisted of one wife (later I married a second wife) three sons, one daughter and mother. In those days, to be a successful advocate, a fresher used to work as an assistant with a well known advocate for a year or two. Having worked in the Sales Tax Department, I had a good knowledge of sales tax rules. To acquaint myself with Income Tax rules, I studied it well. I was confident that I will do well in the practice as a consultant, although my friends were not. I took Rs. 5,000/- loan from the Sangli Cooperative Bank to meet the initial expenses for house keeping, office rent etc. and bought an inexpensive bicycle. Earlier many merchants knew me as a very honest Sales Tax Inspector; I renewed my contacts by visiting them and telling them about my practice as a consultant. I took membership in the Gymkhana Club and Rotary Club to extend my contacts. The number of clients increased slowly and I was able to earn enough to meet all my modest expenses relating to the house and office. From 1968 my practice started prospering with abundant money income, but my private life took a dirty turn. My popularity at the Gymkhana Club soared and I started indulging more and more in their immoral activities (other than prostitution). At home I had no fear of any one – children were very young, wife had no courage to speak and I had no parent. After participating in such activities, I used to repent and moan at my fallen life and for having been caught in a vicious circle.
The Sivaji University, Kolhapur, Started master's degree in law (L.L.M) in the year 1970, and I thought it as a golden opportunity to do this post graduate course as I can escape from the attractions of immoral enjoyments at the Sangli Gymkhana Club. Soon after, I joined the Law College, Kolhapur, for L.L.M and was commuting there thrice a week by State Transport buses. As in the past, from the first year to the final third year examinations, I obtained first rank in all the subjects. I was admired and my photograph with a write-up was published in the newspapers. Even then I could not overcome my weakness for immoral activities, and internally I became very disappointed and depressed.
My law practice increased and my eldest son, who qualified as an advocate, joined me as my assistant. Along with prosperity, my vices also increased without any restraint at all. I realised that I cannot reform myself, and needed a fatherly Guru. I felt like a person who is drowning in a flood and unable to save himself, needs help from someone else, or the fire which cannot extinguish itself till the time it turns into ashes.
Studying for LLM did not improve my character. I can now affirm "Only by academic education one cannot become virtuous." I was employed as a Professor in both the Law Colleges, one at Sangli and the other at Kolhapur, and my experience coupled with my fondness for teaching increased my reputation in the academic circles. I purchased a new Fiat Padmini car. Yet internally I started becoming hollow and hated myself. My inner voice warning me said "You are not born for this and this is not your original self. Come out of this quagmire fast." Despite of this intense inner conflict, I was unable to reform myself. I was fully entangled in the web of temptations. My heart cried out "Search for your Guru." But where and how? I did not know who will cure me of these vicious melodies. Shall I go to a temple? or a Masjid? Since my childhood, I had never visited a temple or a Masjid or did pilgrimage to any holy place. I had no liking for such things, and that was my bad luck. What will I get at such places? Even to-day, except Prasanthi Nilayam at Puttaparthi, I have not found any other temple of interest to me. Gurus, Saints, Incarnations of God of the past do not interest me; I do not know if any of them are alive and in human form now. Whether such an attitude is my strong or weak point also I do not know.
I then started my quest by reading books on Gurus and Incarnations of God, and also enquired from other good persons about them. Out of the names suggested by them, I selected three who are alive – Satya Sai Baba, Jiddu Krishnamurthy and Acharya Rajnish.
I was influenced by the articles appearing in the Blitz, Maratha, Indian Express, Illustrated Weekly criticizing Baba as a hypocrite. Some learned persons and scientists also denounced Baba at the Rastra-Seva-Dal meetings, which I attended in my youth. Even intellect did not accept Baba's miracles. Therefore, first I deleted the name of Satya Sai Baba from the list of three!
I avidly read books on J. Krishnamurthy. His great intellectual discussions impressed me but did not reach my heart, especially his saying "Always act, never react". But, how is this going to reform me? After much thought, I deleted his name also from the list.
Then I started with Acharya Rajnish, purchased all books written by him and audio cassettes of his discourses. I agreed and liked the meaning he gave for 'Bhagawan' (The Supreme Being, God) and fell in love with It. I and some friends decided to get initiated by him, wore red ochre robes and rosary, and became his disciples; for this we were to go to Pune soon. I read one of his best writings on Upanishads "Mrityorma Amritam Gamaya". With the exception of Indira Gandhi and Morarji Desai, Rajnish vehemently criticised Satya Sai Baba, Governments of India and Maharashtra, which I enjoyed. Rajnish's critical analysis of Baba's miracles initially impressed me but later made me thoroughly confused.
To overcome this confusion, I contemplated very deeply on the upanishadic aphorism 'Mrityorma Amritam Gamaya' (the first two lines of this are 'Asatoma Sad Gamaya, Tamasoma Jyotir Gamaya') and to my surprise and delight enlightenment came showing me the path to the living God Satya Sai Baba. I have no doubt now that this sensational drama within me is Baba's play! I thought I found my happiness, but later corrected it as I found my pathway to happiness. I found the truth I was searching for 'Satya' that is 'Satya Sai Baba'. That was in 1976 – 77.
Like others who wish good for all, I too had the question "Why are many poor and miserable and a few rich and seemingly happy? Why some become criminals and some law abiding? If Baba is a Jagat Guru, why is he not taking care of all? why is equal justice not there for everyone?" The answer came from within me- "All other beings are born as actualities; only human beings are born as potentialities." Animals and birds are complete by themselves at birth; later they grow, multiply and die. Human beings are like a blank canvas papers. There is an invisible writing of this canvas-Fate or Destiny-On going Karma, the result of their good and bad deeds in their previous births; added to this some inherited qualities. The most beautiful'part Of this Divine play is that we are given full freedom as to what to paint on this canvass. This is where we need a Divine Guru to guide us, to higher levels of awareness of God. Many do not believe in this and take freedom as license to do anything. "Tat Twam Asi" technique teaches to know thy self, Khuda, God and that you are His part. Those who experience this, paint their canvas finely, others spoil it, that is why different life patterns occur.
This is the way of Sai.
---
I have come not to disturb or destroy any Faith, but to confirm each in his own Faith, so that the Christian becomes a better Christian, the Muslim a better Muslim and a Hindu a better Hindu.
BABA
The Teachings of Rama, Krishna, Mohammed or Jesus are meant for the emancipation of man. No religion preaches violence or harm to anybody some evil minded people misinterpret sacred teachings and indulge in wicked deeds. All the noble souls taught good things, they did not preach hatred. God never tells anybody to kill others.
BABA

---
2. TOWARDS BABA
My eagerness to know more of Baba and Puttaparthy increased. I met some devotees for this and they gave books written on Baba. I refused the books as I now felt that I will not be satisfied with second hand information however interesting it may be. I want to experience the 'Truth' myself. But how do I find time now for this? My law practice and teaching job at two colleges kept me busy with no time left for any other activity. What shall I tell my typical orthodox Islamic family members? I had four young children. My family members and all friends were against Baba. After much thought, I retained my full time job at the Sangli College, and resigned from the honorary job at the Kolhapur College which will leave me free on Saturdays and Sundays.
That was in 1977. I do not remember the exact dates; took casual leave on Thursday and Friday, gave necessary instructions to my office, told my family that I have to visit a friend and travelled to Bangalore via Miraj by train. From Bangalore I travelled by bus and reached Puttaparthy at 1.30 p.m. the second day. Baba gave me the slip in my first visit only! On enquiring at his ashram (Prasanthi Nalayam), I was told that Baba was at His other ashram at Whitefield, Bangalore. I returned to the bus stand, at Puttaparthy, travelled by bus to Bangalore reaching there in the evening; next day, Saturday, I went to Whitefield by the early morning train (a very short journey). As I entered the ashram wearing sandals, a volunteer (Seva Dal member) stopped me and asked me to leave my sandals at the allotted place for footwear, which he pointed out. I complied and returned. The volunteer then pointed his finger at a large number of men sitting in a group and said 'Sai Ram'. As I went there and sat in the front, another volunteer said 'Sai Ram' and pointed his finger towards the rear. I shifted to the rear and sat. I was angry with myself – Having so far lived a dossoluntary (dissolute) and disorderly life, can I adjust to this strict discipline? Sounds of Bhajan were coming from a distance towards the Krishna Idol. I could not fathom out any of the words or its meaning. My attention was elsewhere. What the hell am I doing here after taking the trouble of coming and sitting amongst an unfamiliar crowd? A slight feeling of guilt and repentance engulfed me.
Baba was nowhere to be seen and I had no idea of how to get a Darsan. I noticed that all the men were turning their heads towards left, where there is a gate, again and again. I became impatient and asked a volunteer in a white dress and red-ochre scarf "Will Baba certainly give Darsan?" His look just made me freeze, and yet dared to ask "When will He come?" From his answer "Only He knows", I understood that no one can foretell the exact time. And Ah! my God! I was getting the urge to smoke a cigarette. But I did not go out as it was impossible to get the same seat on return. Then I observed the faces of others sitting around me. Oh! they appeared much relaxed and serene. Their attention was at the gate. Can't they sit still even while singing bhajans? What kind of devotion is this?
All of a sudden I heard 'Quiet, be quiet', 'Oh! Baba' and 'Oh! Swamy'; all were looking towards the gate. I saw Baba as he emerged from the gate talking to someone and proceeding towards the groups seated in an orderly manner. While walking he slightly lifted his robe with his left hand so that it does not entangle his feet, and sometimes moved his right palm over the hair on the rear of his head. A few volunteers followed him. Looking at the groups generally He said "Hallo! How are you? Fine?" As Baba proceeded between the groups, ladies and gentlemen in the first line, (they were seated in separate groups on either side) bowed at Baba's feet as he passed by. Then Baba bent forward and touched a few on their heads. He accepted letters given by some and ignored letters from others. Afterwards, I was able to see Baba sitting on the red cushioned chair near the Krishna idol and listening to the bhajans for a little time. As he got up, Aarathi was performed. Walking between the groups nearby, he left for his residence through the gate. I asked a person sitting next to me "Why Baba did hot come to our side?" He replied "Who are we to ask?" I did not then properly understand his answer and had many such questions in my mind which made me disappointed and depressed. Is this the much talked about Darshan for which one has to spend so much time, energy and money? What benefit did I get and what have I achieved? Only I have lost my Kolhapur College job!
As the crowds dispersed, I too came out of the ashram. I felt better only after smoking two cigarettes, one after the other. I enquired about any restaurant and was guided to Baba's canteen where I ate idli and wada. I came out and smoked a cigarette again. The canteen was filling up with ladies and gentlemen – they all had sacred ash (Vibhuthi) smeared on their forehead. The surprising thing was that everyone seemed to be drowned in some sort of unsurpassed joy and ecstasy. Oh! what is it that is so great they think has happened? Baba came, sat in the chair and went back. Such a small deed of Baba only can have such miraculous effect! What have I wronged that I did not feel the joy and ecstasy like others? In fact, I had to smoke three cigarettes to overcome my feeling of weariness!
I decided to return home and never to come here again.
I reached home on Monday fully exhausted and tired. I lied to my family by telling the name of a friend, whom I said I had visited. Within me I regretted for having spent about Rs. 400/- on this visit to Puttaparathi. In the evening I went to the Gymkhana Club, of which I was the President, and was asked by some friends "Where were you for the last four to five days?" I replied "In the hell". Thereafter, I followed the same old monotonous daily routine, which I very much wanted to change. After a week or so, when I was free and sitting alone, the following thoughts emerged in my mind "Such a large gathering at Whitefield. Can they all be fooled? Or, are they all fools? People even go to fairs and pilgrims centres. What do they get? But what glow of satisfaction and joy I saw on the faces of people at the Whitefield canteen! Can it be false? Even foreigners were there and all were bare footed. No, their satisfaction was certainly hundred percent true. But Baba had not done anything. Only the crowd had bowed with folded palms. Then who has created this happiness? And how? What could be the media of communication? What could be the method of contact? Or, were they all blind and ignorant devotees? Have they found a mirage where they quenched their thirst temporarily? Even if it is so, how is it that I was indifferent and nothing reached me? etc."
After about a month, we had a Friday as a holiday – thus making it three consecutive holidays along with normal Saturday and Sunday. How do I spend these three days? Earlier I never had such a question, in fact, time was short for my activities. On Wednesday night, I felt lonely and gloomy, and my mind was full with some sort of painful regret. Some unfamiliar attraction was pulling me. I was vacillating, shall I go again to see Baba? What did I get from my visit a month ago? If I go again will it be the same -exhaustion from futile efforts? I had not seen Puttaparthy fully last time. Is Baba at Bangalore or Puttaparthi? In such a state of mind, I went to my office and telephoned Sri Narayana Rao, Railway Station Master at Miraj, a devotee of Baba, and asked him whether Baba is at Bangalore or Puttaparthi. When he confirmed that Baba was at Bangalore, I felt disappointed as I wanted to visit Puttaparthi when Baba is there. A second thought came in my mind – to go to Bangalore now or not to go at all. Finally I came to the decision that I have to go to Bangalore. What can happen? At the most history will be repeated. It will definitely be better than getting drowned in the whirlwind of so called enjoyment at the Gymkhana Club on Sunday. This thought came to me for the first time. Despite of repenting for my activities on Sundays at the Club, these bad habits used to pull me back again and again.
Thursday morning I told my wife "I am going out of station for four days". She asked "So soon again. And where?" I answered "To my friends". My wife was doubtful. Earlier, whenever I was away from home without informing her in advance, her innocent understanding was that I was held up in some important work and her impression was always correct. But I never cared for her understanding or took her seriously. My doctrine has always been 'Complete the work in hand, good or bad, fearlessly without worrying about its results'. Changing this is least possible for me. The methodology and style of work changed and modified in radical manner as time went by, however, my inherent nature from birth remained the same. I never indulged in loose talk or deceptive living. One thing I am proud of is that there is no curtain between my inner and outer life.
Thursday afternoon I left for Bangalore and stayed at the same lodge. As the train reached Bangalore late, I could not go for the morning Darsan. For the evening Darsan, I reached the asram quite early at 3 p.m. and sat on the men's side opposite the Krishna idol, where Baba would come and sit in His chair. The devotees increased slowly and the hall became full. The singing of bhajans started.
After some time Baba entered, came straight to the front row where I was sitting, stood before me and without looking at me took letters from those who were seated behind me. Automatically I put both my hands at his feet and bowing down put my forehead on his feet. All this happened as an impulse. After this Pada Namaskar, I resumed my sitting position and looked up. At the same moment Baba also looked at me and it was like a powerful torch light flashed at my eyes in darkness. My head was thrown back with the sudden impact, and an electric current was passing throughout my body. My eyes were dazzled and shut for a moment, and when I opened them I saw Baba sitting in His chair. After that Baba did not ever look towards our side and left when the Aarathi was over.
I came out, put on my sandals, had no sensation that I was standing on the ground, and almost floating walked to the canteen. Something extraordinary had taken place and my head was light without any other thoughts. I had tea without paying any attention to its taste. Without even smoking a cigarette, I boarded the bus from Whitefield to Bangalore and reached the lodge. I decided to go for the next day morning Darsan, smoked a cigarette and went to sleep. Slept very peacefully I do not remember that I ever slept so peacefully.
Next day morning I reached Baba's asram at Whitefield early and sat near his chair. Bhajan started and for the first time I listened attentively. I was engulfed in a feeling of well being, like a sick man who has just been cured of his illness. As there was no sign of Baba even after some time, we could hear whispers "Is Baba coming or not?" The bhajan stopped and the devotees started dispersing. I asked a volunteer "Is there no darsan this morning?" The volunteer replied "Swamy left just now for Prasanthi Nilayam at Puttaparthi". I was confused and did not like the unique way of leaving without giving notice to the devotees. Oh! why can't He announce His programme a day in advance. Even the bhajan singers came to know of His departure for Puttaparthi when the devotees started whispering!
Devotees rushed out. Those who had their own vehicles or on hire, were on their way to Puttaparthi. This was something new to me. I did not like Baba's style and even today I have the same opinion. I was little angry also. Oh! Why am I angry and with whom? In my last visit I was eager to return to Kolhapur. Today why am I sad and depressed at the sudden departure of Baba to Puttaparthi? The only difference between my first and second visit was that of Baba's gaze at me, in my eyes, this time. Can such minor incident have so great an impact on me? It is true that this happened to me, otherwise why should I feel so sad? Just even to think that a person (male or female), whom I never knew or was acquainted goes away after looking at me and this made me sad! Will that create agony of separation? Oh! now I know – I have definitely fallen in love with Baba at first sight! Is it one sided love? Who loves whom – I love Baba or Baba loves me? I could not find a definite answer. Only one thing was true – I, THIS MEERA, HAD GONE CRAZY FOR BABA, HARI.
Even after carefully considering that I have to attend to my duties at the Law College at Sangli from Monday, I decided to overlook this and reached Puttaparthi by night. Although accommodation was available inside Baba's asram, as I was unaware of the procedure to get such accommodation, I stayed in a lodge outside the asram. I ate south Indian curry-rice dinner, smoked two cigarettes and went to sleep.
I woke up to the sounds of 'AUM' at about five o'clock in the morning. As it was quiet in the lodge, I wondered where the sound was coming from. I got up from the bed, without bothering to do my morning ablutions, headed towards the sounds emanating from inside the asram. I saw many ladies and gentlemen standing in two separate rows and others coming out of the mandir and joining them. All started singing Bhajans and walked slowly to circumnavigate the mandir. I came to know later that this is called 'Nagar Sankeerthan' and is carried out early morning every day. Prior to this at 'Brahma Muhurt' the sound 'Aum' is chanted twenty one times by a congregation of devotees sitting inside the mandir.
After seeing the above mentioned events, I returned to the lodge, completed morning ablutions. Had tea at the same restaurant outside the asram gate (even now I like the tea at this place), smoked a cigarette, bought a chocolate and put in my mouth, and then entered the asram for darsan. Oh! What am I doing? Why am I, for the first time in my life, taking such precaution to conceal cigarette smell emanating from my mouth? Right from my boyhood, even in school or college, I did not bother about this. This is the first occasion I felt a little guilty. I do request all Sai devotees to learn to observe even such minor incidents in their lives. They will know that this Sai is like a powerful magnet – once you go and take His darsan, you are permanently attached to Him! It does not mean you are transformed overnight. But it is for certain that the Divine Rays of Sai Lamp have started lighting your heart, and slowly spreading. These Rays are driving away the darkness within you, step by step. Would not you agree with me that this is the greatest Sai miracle taking place in todays chaotic world?
Many people were sitting on the ground in a haphazard manner, some of them especially foreigners, I had seen at Whitefield. Oh! where will we get darsan? In the Hall (adjacent to the temple) which I had seen from outside early in the morning, two volunteers came, made everyone sit in rows, gave numbered tokens, from a bag, one each to the first person sitting in each row. According to the serial numbers one after the other persons in each row were sent to sit inside the darsan hall. Our row got the last number and I could only sit far behind, near the wall. The following is the text of my conversation with a devotee sitting next to me.
I – "From where does Baba come for giving darshan?"
The devotee understood that I was a newcomer, and drew my attention to a door on the right side of the mandir.
I – "Who are those sitting on the veranda next to the door?"
He – "They are VIPs. Baba's close devotees and friends."
I – "How do they go there?"
He – "Directly from the front gate. The volunteers know them well, and if someone happens to be new he has a pass signed by Kutumba Rao."
Hearing this, I questioned myself "Why this difference? Why VIP treatment to some? Is this not partiality? Why not give equal treatment to all? And why are there no ladies amongst the VIPs?"
At this juncture, I noticed groups of students along with their teachers coming fast from the front gate and sitting in an orderly manner, one behind the other in rows, on the verendah and nearby space. The students were carrying books in their hands.
I – "Who are these boys?"
He – "They are students of Baba's primary and secondary schools."
I – "Are there no girl students in Baba's schools?"
He – "Schools and colleges for girls are separate, and their routine is different, and are located at Anantapur, Baba is still not in favour of co-education.
Bhajan started but I could not see the singers. Then I saw a line of male devotees going into the Mandir through the door on the left, under the guidance of volunteers. A few returned, perhaps the Mandir was full, and sat behind us.
I – "Why did these devotees enter the Mandir at this time and that too before darsan?"
He – "Later on Baba goes into the Mandir and give darsan to those gathered there."
I – "Most of the devotees are sitting outside here for darsan. Why should a few go into the Mandir for Darsan?"
He – "They are interested in singing bhajans along with the singers who are already inside. More important is that Baba goes inside, sits in a chair just in front of the congregation of singers and listens. They also have the opportunity of seeing Baba taking aarathi before He goes into the adjacent room where he gives interviews. Thus these devotees have a prolonged darsan."
I had not seen any lady entering the Mandir just like in Muslims' Masjid. Are ladies not allowed in the Mandir? If this is so, I should not be here even for a minute! On my asking, the devotee explained "On the contrary, there are more ladies than gentlemen inside the Mandir. Are you not hearing to ladies' voices also singing bhajans? The singing is from inside. Ladies enter the Mandir through a separate door on the other side, which is not visible from here." On hearing this, I was much relieved.
I do not like some of the customs which are accepted and practised. Muslim ladies are not allowed in the Masjids and are also not allowed to do Namaz there. When Muslims criticise Hindus on untouchabllity, is not this treatment of ladies amongst Muslims a sort of untouchability also? 'Quran' and 'Hadis' are the two main books of Islam religion. 'Quran' is speech of God. 'Hadis' are the customs and traditions, which came later and put on the name of Mohammed Paigamber. In 'Quran' there is no injustice to women. To say more about 'Hadis' in this book will be out of context.
Then Baba went towards the students and for more than ten minutes had a tete-a-tete with them. Any intelligent devotee, after seeing this event, will realise how Baba is conveying by his actions right from his childhood for the past sixty years the meaning of the proverb "Children are the flowers of God". I could not control my tears of joy on witnessing this touching scene. With one kid, Baba acted like a loving mother beating the child by hand. Baba's action was worth seeing. Even today, whenever I recall this incident I become very emotional. But why does this not happen to all the devotees? After many years, I feel that I have found the answer to this question? I am now of the opinion that most of the devotees are so immersed in their own affairs that they cannot appreciate such sensitive actions of Baba. Being always self-centered and thinking about their own lives, even if they look at such events they cannot see and experience Baba's love; they just carry the burden of their raised hands and folded palms. Why Can't they forget their material existence and dive deep into Sai aspect of Baba? Is there any other meaning of surrender? When death is like zero (soonyatha) and you think you are merging into zero (nothingness or soonyatha), while dying, why can't you surrender to Sai and merge while living? My meaning of 'Samaadhi' is 'This is his realm' (Aashi) and 'Only He is there and not me' (Sama) – i.e. 'He is me and I am Him'. (Advaith).
Afterwards, Baba walked towards the ladies and then walked back towards the gentlemen. He was quite far from me; since my eyes were moist I had a blurred vision of Him. At one place Baba bent a little and gave something into the palms of devotees. From my neighbours talk, I understood that Baba created Vibhuthi and distributed it. He took letters from some devotees and did not take from others. Then He went towards the gate where some sick persons were sitting in wheel chairs. I expected that Baba would talk to them. No, He just looked at them, walked back and stood on the veranda. The reasons for Baba's apparent disinterest at these sick persons in wheel chairs are not yet clear to me. Then I saw a few devotees among the gentlemen, ladies and foreigners getting up from where they have been called for an interview by Baba. I have already written in detail about these interviews in my first book, and as such I am not repeating it again in this book.
After the Aarathi the devotees dispersed. The time was 9.30 a.m. I had tea, cigarette at the same restaurant and returned to the asram, and wandered around. I read that day's message of Baba written on a black board, saw the accommodation office, book stall and purchased a few English books. Thereafter, I returned to the lodge, lied down on the bed and lighted a cigarette.
Then only I remembered the College at Sangli and my duty there, but decided to take one more darsan in the evening and leave for Sangli next day morning. Oh! My! to my surprise it occurred to me then that in Baba's presence I had forgotten all about my problems and vicious desires which were bothering me. Baba has become my Guru, and how come my problems did not crop up in my mind? Why have I not asked Him anything or at least told Him in my mind? Why did I become taciturn and forgot myself? Whatever has so far happened is correct and for good? Who am I to tell or ask? Baba is omniscient – knows everything. Let me wait and see if anything new happens in the evening.
The evening was just the same. I extended my stay for two more days, but nothing new took place. Yet, I was not disappointed! I was sure that though I did not get anything externally, I did get something very deep internally. While leaving, I put forth in my mind my only prayer "Baba give me chances to come for your darsans, even from the last row. I do not want anything else. I will prove to you that I am much changed and reformed".
It was Thursday morning that I returned to Kolhapur. I did not bring Vibhuthi or Baba's Photographs as I had no attraction for them. I cherished my journey and kept it a secret. Some books in English, which I purchased at the asram, were at the bottom of my suitcase.
After my arrival, my family members were in gloom silence for one or two days and I was depressed. I was quite used to this, and being at fault bore it patiently. On such occasions I never became wild and angry with anyone. Being the eldest and earning member of the family, I never used this position to shout or scold any other member for any mistakes on their part. I could have cleared their misunderstanding, if any, at that time, but did not do so. I was afraid that someone might oppose me, which I would not be able to bear. Further, It is wise to hide your happiness under such circumstances.
On reaching my office, I found a letter from college. It was a Memo and read as "You were absent from the college without prior intimation. This has caused inconvenience to the students and also affected the routine of other professors. Your casual leaves are almost exhausted. Henceforth, please do not abstain from your duties in the college. Also render a written explanation for your unauthorised absence last week from Monday to Wednesday, etc." Now in retrospect I think that the College Authorities were not wrong in issuing the Memo and I should not have lost my temper. But in those days, I used to get very angry at such provocations without carefully reasoning out the real cause.
I pulled out my office letter pad and wrote a reply. In brief I wrote "I went to Puttaparthy in Andhra Pradesh to have a darsan of Sri Satya Sai Baba. Henceforth, I intend to go for His darsan every month for four days. I will be going after taking up my Wednesday's lectures and return on Monday mornings. You can account for these two days, Thursday and Friday, as leave without pay. I do not mind even if you consider this as break in my service. You may, if you like, disallow my pension, provident fund, gratuity etc. However, I assure you that by taking extra classes I will complete the syllabus well in time and will not cause any inconvenience to the students. If you disagree with my above mentioned demands I will not be coming to the College at all."
Later I came to know that this letter was kept before the LMC meeting. I and Sri Satya Baba – many of them did not believe, and someone exclaimed "Oh! both of them are sailing in the same boat!" A few newly appointed members suggested my dismissal. But senior professors knew my reputation amongst the students and one of them said "If we remove Professor Korbu the students will go on strike and we will have to close the college. He is our only Star Professor who has mastery over all the thirty subjects which are being taught in our college. Why should we be concerned with his private life? Students come to this college just to attend his lectures. As for the others, we have to almost force the students to attend the lectures, etc." Then the management decided to allow me to continue in the service as a special case. The principal called me to his office and narrated to me all the above. He also asked me to sign the attendance register for the absent days without fail and added that such things cannot be given in writing!
Then there was a whispering campaign against me. It was said that I was a hopeless case and therefore had to go to Sri Satya Sai Baba in Andhra Pradesh for help. This infamy reached the Gymkhana Club, of which I was the President, the Rotary Club and also my home. There was also a good outcome – some shy old devotees of Baba, living in Sangli and Miraj, started visiting me. Some of them related their experiences and we discussed Baba's life and teachings. I also started visiting Baba's devotees in Kolhapur. In short, I came to know many devotees around here and we all came closer. There was not much response at the Gymkhana Club and the Rotary Club as a large number of the members had negative critical opinions on Baba. They even went to the extent of giving my example as evidence to prove that "Baba is a fraud not God. One who is bringing such a rotten spoiled person as Korbu close to him, how can he be an Avatar? The devotee is a fraud and his God is also a fraud." Till then I did not give any weightage to such adverse criticism. But this time, I resigned my membership from the Gymkhana Club and the Rotary Club, that too with pride.
Then a second bigger miracle took place. At home, although no one agreed with me for my devotion to Baba, yet as my usual style of living was slowly changing for the better, an air of contentment was spreading in my house. The observation of my family members was that the head of the family was slowly and definitely getting humanised; almost like being resurrected. They became happy and I too was glad. I offered all this at Baba's lotus feet. I commenced visiting Puttaparthi openly; of course, I was sitting in the last row for darsan. That was upto 1981. Slowly some of the wounds of endurance healed up. Other wounds were still there but bearable. The journey was balanced. During those initial five years, Baba never even once looked at me or gave 'Pada Namaskar'. Despite of this, I was contented!
---
It is always preferable to approach God for the fulfillment of wants, rather than cringe before man, who themselves are tools in the hands of God. In his own silent way, God will transform the mind and turn it towards Sadhana and successful spiritual pilgrimage. He cannot allow His children to loose their way and suffer in the jungle. When you approach God and seek his help and guidance, you have taken the first step to save yourself. You are then led to accept His will as your own. Thus, you achieve Shanti (peace)
BABA

---
3. NEW UNIVERSITY AND I
In February 1981, I went to Whitefield for Baba's darsan. Oh, yes! Baba was there. By that time, I had become a regular devotee and could easily find out His whereabouts. In the past five years I felt that I have endured enough trials and tribulations arising out of my own deeds. Some blots were yet there to disturb me much.
One evening Baba did not come to give darsan. Well, that is Baba's style! I got up and for the first time felt like visiting Baba's College and Hostel. But will the volunteers allow me to visit them? I went out to put on my chappals. A volunteer was there. Although I did not know him, I always used to see him at this spot. A young fellow with trimmed black beard, grey hair and wearing spectacles. I don't know why, but while passing I said 'Sai Ram' to him. He also replied 'Sai Ram' came closer to me and said "I have seen you often here. Don't be disappointed at Swamy's absence today for darsan. He has gone to Prasanthi Nilayam, at Puttaparthi. By the way, where from are you and what is your occupation?" I told him about my academic activity only, thanked him and turned to leave. My voice become weak and eyes blurred with tears because of separation from Baba! The volunteer called me back saying "Oh, Mr... Prof. Korbu, one minute please." I turned back, and the following conversation took place between us.
Volunteer – "Swamy is starting His own University at Puttaparthi from June this year. This University needs some visiting professors. Why don't you apply?"
I – "Is He initiating law faculty also?"
Volunteer – "No, how can a law faculty be started at Puttaparthy? There are no law courts and no advocates there."
I – "Then, what will be the use of my applying? I am not eligible for any other faculty."
Volunteer - "But there is certainly going to be a commerce faculty, and someone well qualified in law will be required to teach mercantile law."
I – "Thank you very much for the information, I shall sincerely think over your helpful suggestion."
Oh, my God! How is it that this ordinary volunteer knows so much about university level faculties of law, commerce and mercantile law etc. I became uneasy. I turned back, and asked him in an abashed tone in the following manner
I – "Please forgive me for not enquiring anything about you. I was very much confused, but I have a puzzle for you to solve. Despite of the fact you are a volunteer here, how is it that you know so much about the academic aspects at a university level? What is your occupation when you are not a volunteer here?"
Volunteer – (in a natural disposition) "I am known as... (I have forgotten his name now). I am the Head of the Department of Philosophy in this college. However, when I am free, Swamy has obliged me by permitting me to serve here as a volunteer. Very kind and noble hearted is Swamy."
Oh! that is marvelous. I was astonished. What an incomprehensible way of walking by Baba the 'Avatar'? The Head of the Department of Philosophy doing the work of a volunteer and that too as a caretaker of devotees' footwear! And that also he calls Baba's Grace! What an unassuming and humble nature? Even when telling his name, he did not prefix it with Principal or Professor. I was almost hit on the head. I sincerely make an earnest appeal to the many Indians, who are choked below heaps of wealth or power or degrees, that at least in the name of site seeing they should visit Puttaparthy. You may not go for Baba's darsan, but at least try to feel, understand such experiences of persons who are living examples of values of human education and human life.
That same night I caught a train and returned to Sangli, the next day. The second day, after my siesta, I prepared my Bio-data and wrote an application for the post of a visiting professor in Baba's new university. I did not inform anyone in my family about this. I did not worry at all as to what will happen to my full time job at Sangli College, if I am selected for professorship at Baba's college at Puttaparthy. What will be my salary? Or, will it be an unpaid job? How many times and days in a month will I have to go? What about my travelling allowances? Will I be given free accommodation and food etc? I kept aside all such questions out of my mind. Then along with my application, bio-data and certificates, I wrote a separate letter saying "I am very rich (untrue!). I do not require salary and travelling allowance (against my wish!). I am a popular professor, famous as a star, and have mastery of teaching over thirty subjects in law. And I am a Baba's devotee (true)." I prepared a bigger envelope, enclosed all of them, and posted it to Puttaparthy address.
I went to Puttaparthy at the end of March 1981. This time I had completed teaching my college syllabus fully. Therefore, there was no hurry to return to Sangli. One day after morning darsan, my routine tea, cigarette and chocolate, I headed towards Baba's High school and enquired about the university. I was told that the Boys' College has information, about the University, there. I went to the college. The administrative office was in the ground floor. The walls were adorned with different portrait photographs of Baba. Despite of a large number of non-teaching staff working there, there was pin-drop silence. After my enquiring at a window, I was sent to the concerned clerk. He said, "Sai Ram, please have a seat. What can I do for you? Thereafter, the following conversation took place between us.
I – I had applied for the post of visiting professor of "Mercantile law". Can you please tell me when I will be called for an interview?
Clerk – Oh! I am sorry. I did not know that you are an applicant for professorship. Please sit on the opposite sofa. I will also come there and give you all the information.
I did not feel much of his modesty. It is a way of life here. The sofa was of ultra modern design, elegant and looked very expensive. Later when I visited Baba's Nursery, High School, College, University and Hospital (which was recently commissioned) I found nothing of ordinary style, equipped with modern amenities and equipment as per Baba's wish, made possible from unconditional donations by devotees. Even the plans for the buildings were approved by Baba.
After we shifted to the sofa, our conversation continued.
Clerk – All the faculties of the deemed university are going to need fourteen visiting professors. We have received your application. There have been some problems regarding interviews, which were beyond the scope of the Registrar and the Vice Chancellor. Therefore, Swamy will be taking the decisions.
I – I am sorry, but it is not very clear to me.
Clerk – In response to our advertisement in the 'Sanathan Sarathi' magazine three months ago, we received eighteen thousand applications from all parts of the world. It was an enormous task to scrutinise all these applications and take interviews. So when the Vice Chancellor acquainted Baba of this difficulty, Baba told him" Don't worry. I will do the needful."
I – Can you please tell me as to how many universities the applications have come from?
Clerk – I do not know, as the applicants envelopes have not yet been opened and still more applications are coming. Yet from the addresses given on some of the envelopes, I can mention Oxford, Cambridge, San Diego, California and many other foreign universities. And from almost all universities in India.
(Readers please do not guess my increased heart beats and fallen face!)
I – By the way, who is the Vice Chancellor and the Registrar.
Clerk – Dr. Gokak is the Vice Chancellor, and the Registrar is Sri Chakravarthy, a young IAS (Indian Administrative Service) Officer from Bengal who knows all the languages of South India.
I – Dr. Gokak! Is he the world famous V. K. Gokak?
Clerk – Yes. He is one of the senior devotees of Baba and has been staying here for many years.
I recalled the year 1952 when I was a student at the Rajaram College, Kolhapur, where Dr. V. K. Gokak was the Principal and my English Professor! The renowned educational expert is the Vice Chancellor and an IAS Officer is the Registrar here.
I – Is the Governor of Andhra Pradesh ex-officio Chancellor?
Clerk – The Chancellor of this University is Baba Himself and not the Governor. This is going to be a Deemed University and teaching will be at world level. Admissions will not be only on academic merit, but on aptitude test. All the students and professors will reside in one campus. Each faculty will have regular professors and also selected visiting professors, who are experts in their fields.
My mouth dried up, voice become weak, hearing this! I could only say 'Sai Ram' and came out. I blamed myself for having sent my application. I became depressed and decided not to appear for the interview if called. I left Puttaparthy without, waiting for the evening darsan.
In my homeward journey, my mind was full of questions. Why should I be sad when I sensed that I was not suitable for this post? Earlier have I not rejected chances of well respected posts of power? Then why has this inferiority complex come now in my mind? What am I going to lose if I do not get this job? In fact, I should be happy and proud that Baba's university will be having world famous renowned teaching staff. Is the cause of my depression my hurt ego? Well, this must be the reason. Although I was known as a humble professor, my ego as a successful star professor had definitely blossomed, and this ego was hurt, making me depressed. Oh, my God! I realised for the first time how such self introspection was useful. On the pretence of chance of service, I wanted service of chances. Rather than a post for service, I desired of post to strut about that I was a professor at Baba's deemed world university. Then I calmed down. My ego was deflated. A good incident, had taken place in my teaching career.
I returned home in peace and became reserved. One fine day, I called my two advocate sons and Sri Bajaj, my partner, and told them "Sri Bajaj, please relieve me from our partnership. You have worked a lot for this. You may please make a new partnership deed with my two sons as your partners. You can take 50% of the profit as your share, and give 25% each to my sons as their share. Henceforth, I shall be giving free tuitions to needy students."
Baba is always away from Puttaparthy and Bangalore during the months of April and May visiting other places, and returns to Puttaparthy in mid-June. That is, after my last darsan in March 1981, I will have to wait till June 1981 for the next darsan.
In the second week of April 1981, I received a letter from the Sri Satya Sai Institute of Higher Learning. It read as "You have been appointed as a visiting professor of mercantile law in this institute. Please make it convenient to see the undersigned immediately. Registrar."
The readers would assume that I must have become mad with happiness after reading the above letter. But nothing of that sort happened. I got up, from the office, went straightaway to my bedroom upstairs, sat on the bed after bolting the door from inside, and started weeping profusely like a kid. I do not remember how long I wept? But my handkerchief was thoroughly soaked, what a great relief – Bliss is there in tears of complete happiness and blessings! This realisation swept over me for the first time in my life. In such utter happiness eyes get closed. Expressions change from words into rolling tears of happiness. What can be more natural than this expression of happiness and grief? That time words, languages fail. The higher natural state of the mind – how can it be expressed through any other medium than tears? I do say that tears are a gift to human beings.
Baba spoke many times beautifully on the importance of tears. He once said "Happiness and grief occurring in life are the two sides of the same coin and the natural proof of this are tears."
After some time I came down stairs, and told this news to my family members. They were very pleased. One of them asked "What about the Sangli college job?" "That will be seen later" I answered.
I immediately started for Puttaparthy. As expected, Baba was away from Puttaparthy. I was not disappointed. I went to the accommodation office in Prasanthi Nilayam, and showed the letter to Sri Chand Sahib, who was in charge. After reading the letter, he called me inside and offered a seat. Janab Chand Saheb is a retired officer of Air India. He spoke to me in Hindi, Which is his mother tongue, and with others in either Telugu or English. On his instructions, one assistant went out and shortly returned accompanied by a short bald person wearing a nehru shirt and dhothi. Sri Chand addressing me said "He is Sri Kutumba Raoji, chief of this asram", and then spoked to him about me in Telugu. Kutumba Raoji welcomed me in English and spoke to Chand Sahib also in English, and went away. There is no one like Kutumba Raoji, M.A., L.L.B, a Karma Maharshi. He does not talk unnecessarily, and is very busy for long hours efficiently managing the asram. He very rarely smiles or laughs, and works from 5 a.m. to 11 p.m. He is the only frequent visitor to Baba's room. He discarded his body two years ago.
Chand Saheb gave me a key, and pointing to an assistant said " This man will show you the accommodation allotted to you and also the canteen where you can have your food." The assistant picked up my luggage and I went along with him. To my astonishment, I found that the accommodation is a well furnished, self contained double room, clean and tidy and also provided with spotless bed linen. I enquired from the assistant about this quick housekeeping, he told me that as soon as I handed over my letter to Chand Sahib, the process started.
I went to bed after having rice dinner in the canteen. Next day, at 9 a.m. I went to the University Registrar's Office, sent a note inside and was immediately called. As I entered, Sri Chakravarthy got up from his chair and welcomed me saying "Salaam Ale Cum". I replied and sat in a chair opposite to him on the other side of the table. In Urdu, he enquired "How is everything?" I was surprised because I knew that he was a Bengali IAS officer, fluent in all south Indian languages, but Urdu also! After answering "Well" in Urdu, I said "If you don't mind, can you please tell me how many languages you know?" Smiling, he replied "By the Grace of Swamy, I know eleven languages including a few foreign ones." After the formalities were over, he gave me my schedule. Commencing from June, I will have to come once a month, and thrice in a term. In every visit, I will have to take morning classes for three days. During that time, even if Baba is at Puttaparthy, there will be no morning darsan for me etc. etc. I asked "When can I meet the Vice Chancellor?" and he replied "He is not available today. You can see him tomorrow. The adjacent office is his." Then I took leave. If you visit any officer in Prasanthi Nilayam or the University, you will be served cold water only and no other refreshment like tea, coffee or snacks. This is so even if you are a VIP.
On the second day morning, I was in the spacious imposing waiting hall of the Vice Chancellor's office. I was called in immediately after I sent a note. I said humbly "May I come in, sir?" "Yes, come in" he replied. I went in and noticed that he was busy writing something. Later I come to know that his stenographer was on leave. Before his attention would turn towards me, I looked at him fully and wholeheartedly. I have great respect for Dr. Gokak and Sri Kasturi and honour them almost equally with Baba, except that Baba is an 'Avatar'! Only because of these two, the whole world has come to know that Baba is the source of spiritual wealth. Dr. Bhagavantam, whom I do not know personally, is also to be equated with them. Now all thre 'of them and Sri Kutumba Rao have left their bodies and merged in Baba. I remembered the year 1952 – the six and half feet tall principal of Rajaram College. Twenty nine years have passed since then but I found him to be the same except for a few fallen hairs.
Actually, Dr. Gokak does not know me, nor did I expect him to know me. There was no connection between us yet. However I became touchy. In the past five years, Baba's darsans have made me very emotional that my tears respond first to even small incidents.
After a few minutes he stopped writing and looked at me. In a slightly authoritative voice, he said "Why are you standing there Professor Korbu? Please come forward, sit in the chair in front of me and relax for a little while." His was Oxford English, grammatically correct and poetical. He never speaks ungrammatical American slang – for example he never says 'ya' for 'yes'. He kept the papers he was attending to in the table drawer, looked into my eyes and said "I know that your have been selected to teach "Mercantile law" to our students of commerce faculty. May I know your educational qualifications, your home town and present occupation?"
I was a little surprised as all this information was given in my bio-data. Probably this may not have reached him, and hence I told him the required details in short, stressing a little more on Rajaram College.
Dr. V. K. Gokak – "Did I ever teach you."
I – "Yes sir. You taught us Shakespeare dramas." (I wanted to ask him some questions, but did not dare to do so!)
Dr. V. K. Gokak – "Since how long have you been a devotee of Baba?"
I – "Five years, sir."
Dr. V. K. Gokak – "I am glad to say that you should feel yourself to be very fortunate to have come so close to Swamy in such short span of time. Of course, it is the sincerity that counts more than seniority in any field of life in general and within Swamy's Vision in particular"
Then, I became a little bolder and said "May I ask you a question, sir", to which he consented.
I – "Can you tell me how I was selected for the appointment without being first interviewed?"
Dr. V. K. Gokak – "How was it possible to interview thousands of applicants? We requested Swamy as to how to do this selection. Swamy said that one day he will come and do the needful. There is no need to open any envelope or call any applicant. One day, after morning darsan, Swamy came to this office and I followed him. Swamy instructed us to spread all the envelopes on the floor, which we did. Then Swamy picked up fourteen envelopes from them in fourteen seconds, told us "These persons are selected" and left. Afterwards we opened the fourteen envelopes. We found that there was one envelope for each faculty;
there was no duplication or triplication. In that lot, your's was for Mercantile law. Swamy's miracles are a routine to us now. If you have any doubt yet, you may contact the Registrar. Except for these fourteen, all the other envelopes are still sealed."
Then I met the Registrar. Ofcourse, I did not dare to discuss anything on the above matter. I informed him that I would send the time table of teaching, in writing. Acquired the syllabus, took his leave and started for Kolhapur.
After my arrival there, the first job I did was to write a letter to the Sangli College enclosing a copy of my appointment letter from Baba's University. In this letter, I stated – "I have to attend to this new assignment for three consecutive days in a month every term. I may please be given necessary concession for these three days – i.e. from Thursday to Saturday inclusive. You may decide whether to sanction this as paid or unpaid leave. Any decision in this matter by the management is acceptable to me. In case you cannot grant this concession, then please relieve me from service in your college form June 1981." In May, the Principal told me on telephone that my request had been granted.
I then wrote to Sri Chakravarthy, Registrar, informing him of my teaching schedule and requested him to keep my class on Sunday also as a special case. My journeys for this assignment commenced from June 1981. I used to leave on Wednesday night to reach Puttaparthy by Thursday afternoon and return by Monday evening for Sangli College duty. I used to get evening darsan only, that too if Baba was at Puttaparthy.
I delivered my first lecture At Baba's College one day morning in June. In the evening, I sat in the queue for Swamy's darsan. A volunteer came to me and said "Sai Ram, please follow me". He led me to the veranda, made me sit along with the VIPs and told "From now onwards, you have to sit here always for darsan." I was surprised but kept quiet as I saw Baba coming out of His room at that moment. I was seeing Baba from very near for the first time after a gap of about five years when Baba stood in front of me and gazed into my eyes in my first darsan episode at Whitefield. Baba glanced at the VIPs sitting in the veranda. Without speaking to anyone, he went to the students and remained with them for a long time. I just kept on drinking the nectar of his divine movements and beautiful appearance.
Baba went round the darsan hall, first towards the ladies side and then towards the gentlemen's side. I looked at VIPs but knew none. Neither Dr. V. K. Gokak nor Sri Chakravarthy were there. Then I saw Sri Kasturi, who was continuously looking at Baba as he moved around. I got up and bowed down at his feet. He spoke to me in a clear, gentle subdued voice. At that moment I realised as to why some knowledgeable persons call him 'Valmiki', because of the manner in which he wrote Swamy's biography. It was also said that prior to coming to Baba, Sri Kasturi had many characteristics of 'Valya' the fisherman. One unbelievable thing which I noticed was that with the exception of Sri Kasturi, there was no trace of devotion in the faces of the VIPs sitting in the veranda. I felt that they made a pretence of devotion by holding their palms up together whenever Baba is in the veranda. Even today also my opinion on this is not changed. Foreigners are different. I may be wrong, but compared with the intense longing one notices in the faces of countless common people sitting for darsan in the hall, the same is not noticeable in the faces of the VIPs sitting in the veranda. I have no answers to why this is so. But I do sincerely wish that this impression of mine should prove wrong!
Baba was still walking around. I looked at the students sitting close by and realised that they were the same students whom I taught in the morning, and many of them were also looking at me. I had no doubt as to what opinion they mighthave formed about my teaching. I have always been confident about the teaching gift given to me. But, by whom? This has to be Baba, otherwise how was I chosen by the miraculous manner of selection?
Baba returned, entered the Mandir, took Aarthi. Then, along with the lucky few, who were called for interview, he went inside his room. Soon afterwards, we dispersed.
On my way out, I met Sri Kutumba Rao. While Swamy goes around giving darsan to the devotees sitting in the hall, Sri Kutumba Rao stands at the gate with folded hands along with two volunteers, and does not sit in the veranda. Before I spoke, he said "Professor Korbu, as a matter of discipline, you have to sit in the veranda for darsan, now you are a member of the intimate Sai family."
In this manner one year, June 1981 to June 1982, passed by. Baba never even once looked at me, or talked to me or gave Padanamaskar to me during this year.
After the first fortnight of June 1982, many good events took place. On the very first day of my lecture, I received a written note from the University office saying that "Please come and see the Vice Chancellor soon after your morning lecture is over". This made me a little apprehensive. Did I make any mistake? Are the results of examination in my subjects bad? It cannot be this reason. Compared to the students, I taught in other colleges for eleven years, my students here are top model students. The students of this University are well disciplined, studious, free from bad habits, healthy and clean. They are also modest, playful, fond of jokes and self-confident. Spiritual awakening is noticeable in their faces. Such students are found only at Baba's University.
I called on the Vice chancellor as instructed. With a stern look he asked me to sit and said "Professor Korbu, how much salary and travelling allowance did you claim for your last year lectures? You do not have to answer. It is evident that you did not claim anything. On my asking, Chakravarthy showed me your application for appointment in which you stated that you are rich and are not in need of remuneration etc. Professor Korbu, why did you write lies in your application".
I fumbled "But sir". Dr. V.K. Gokak continued, in the same stern manner "Please do not try to justify your previous wrongs by making more mis-statements. Yesterday evening Swamy was furious and told me that you are not at all rich and in fact you have incurred debts to meet the expenses for coming here. Swamy ordered me to immediately make full payment of whatever is due to you for the past one year's teaching. Your cheque is ready. See the Registrar and collect it. Do not repeat such things. Swamy knows everything."
Like a machine I walked to Sri Chakravarthy. He handed over to me a cheque for full payment of the honorarium and travel expenses for one year, He also seemed to be angry. I asked him "Have I lost my job?''
The Registrar replied "No, no! not at all. Swamy loves you very much. Along with the Vice Chancellor, I was there in Swamy's room yesterday. Swamy said that your are very good at heart. Swamy explained that the real reason behind your mis-statements was your cherished desire for this post and hence the sacrifice on your part".
What can I say about such happenings? For the evening darsan that day, I sat in the rear of the veranda with a plum face, and was happy that Baba did not come to that side at all. In the night, I did a casual verification of the amount mentioned in the cheque, and found it to be much more than what I expected. I was paid at the rate of Rs 90/- per lecture of one hour each, first class return fare from Sangli to Dharmavaram, free accommodation and food. I was of the opinion that teaching is a holy work, Vidyadan, and salary will be less. Later I realised that working in Baba's University was a luxury!
I returned home. Even after clearing all debts and paying other outstandings, I had considerable balance left.
In the third week of June, my teaching at the Sangli college re-commenced. All the members and the chairman of the college managing committee were changed. Orders were received from the Shivaji University, to which the college was affiliated, to appoint a full time principal as prescribed by the University Grants Commission. From its inception in 1965, the college was being administered by honorary principals in contravention of the regulations. In compliance with the University directive, the newly constituted managing committee decided to appoint a full time principal immediately. The advertisement calling applications has not yet been given. I was suitable for the Principalship as I had the requisite qualification and experience. Till then I did not experience any religious bias against me in being selected for the teaching jobs. But now doubts crept in my mind. I met the chairman informally to know my position. He was outspoken and told me that not only, I will not get the principalship but also that the management does not approve my frequent absence for visiting Puttaparthy. I decided to resign for the simple reason that I never acted against others wishes.
Four days after this, I read a newspaper advertisement that calling applications for the post of Principal for the evening law college which is being started at Kolhapur by the Pune's Bharathiya Vidyapeeth. Dr. Patangrao Kadam was the founder secretary, whom I did not know. I applied immediately and was called for interview in July, for which twelve applicants were called. After interviewing me for about 15 minutes, Dr. Patangrao told me to wait outside. When all the candidates were interviewed he called me inside again and informed that I have been selected for the appointment. I replied "I have something to say. Every month I should be given paid leave for five days, inclusive of Saturday and Sunday." "What for?" he asked. I explained to him about my visiting professorship at Baba's University at Puttaparthy. Dr. Patangrao quarried "If we do not agree, then what?" I replied "In that case, I am sorry that I cannot accept your offer." I thought that I have lost my chance, but Dr. Patangrao smiled and said "I like your honesty and resolve. To achieve one's goal, there should be no compromise of one's principles. Your goal is Baba. Let me tell you that even our Shankarrao Chavan, (Ex. Chief Minister, Maharashtra, Ex. Home Minister, India) is also a devotee of Satya Sai Baba. Whenever he feel like going to Puttaparthy, he runs away leaving his duties of ministership. Please take me also there one day. I have heard that Baba's University is worth visiting. You may please take your appointment order now and take charge of the college tomorrow.
I was sure that behind all these happenings is Baba's planning only. I took the appointment order, reached Sangli same day evening and submitted my resignation to the college authorities. In lieu of the required three months notice period, I paid them equivalent salary of about seven thousand rupees. Luckily I had this cash ready with me, being the balance left from the payment I received from Baba's University.
This is the transformation of one time cinema door keeper (in my boyhood) who ticked the tickets of the wealthy. Now they come to me by appointment for advice as a tax consultant. I have also become the Principal of the prestigious law college at Kolhapur. Whatever others might say, I am certain that these paradoxical changes are nothing but synchronised Baba's leelas and grace!
---
I seek the gifts of truth, virtue, peace and love. I draw you to Me and then transform and re-shape you. I am a kind of smith who repairs broken, leaky damaged hardware. I repair broken hearts and fragile minds, warped intellects, feeble resolutions and fading faith.
BABA

---
4. EXPERIENCING THE MIRACLE
After becoming the Principal of the College in Kolhapur, I went to Puttaparthy in the third week of July 1982 to teach. I thought I should inform Baba of my principalship at the College in Kolhapur. Baba did not even look at me during the past one year. I was familiar with Baba's dearest devotees – Dr. V. K. Gokak, Dr. Bhagavantam, Sri Kasturi, Lt. Col. Joga Rao – and met well known writers on Baba such as Sri P. Balu, Sri R. Ganapathy, Howard Murphet, Dr. Hislop and Dr. Samuel Sandweiss. I could not get Baba's grace yet, although it would have been better if I sat with the crowds than being close and neglected.
But something new was to happen. At the evening darsan, He came straight to me. With tears in my eyes, I took His Pada Namaskar. Then Baba asked me "How are you sir?" "I am alright Baba, but now ..." and before I could complete the sentence Baba said "I know, I shall see you later" and went away. This made me happy.
Next day I met Dr. V. K. Gokak in the college. He told me "Swamy loves you very much. Your students have been saying that you teach very well and that they are happy about you. I wish to attend your class one day." I humbly replied "Please do not do it sir. I will not be able to utter a single word in your presence." Dr. Gokak laughed heartily at this.
My normal routine was to return to Kolhapur on Sunday, but this time I missed the bus and therefore stayed back and went for the evening darsan. There were no interviews. After darsan was over, Baba came straight to me and the following conversation took place on the veranda between Baba and me.
Baba – "What is your First name, sir?"
(Why Baba Calls me by "sir" I understood later on.)
I – "Abdul Razaak."
Baba – "What is the meaning of Abdul?"
I – "A devotee."
Baba – "What is the meaning of Razaak?"
I fumbled and could not answer immediately. Then Baba himself said.
Baba – "Razaak means Allah. What is the meaning of Allah?"
I – "God."
Baba – "That is not quite correct. Allah means all high – above all, that is the meaning of Parameshwar – Param Ishwar. No difference – Allah and Parameshwar are one – this whole existence – this vishwa!"
For the first time Baba talked so much with me in the veranda. Everyone in the veranda was listening to Baba. Sri Gokak, Kasturi, Bhagavantham etc. I became blank, almost hypnotised.
Then Baba said, "Come!" and started walking.
I could not understand and got confused.
Sri Kasturi was standing nearby. He could realise my condition and came to my rescue saying,
"Swami has decided to give you a solo interview. Very fortunate. Go into His room."
I got up and started walking towards Baba's room. He was standing near the door. I went near him and stood bending forward with folded hands. (It is my opinion that no one, even Baba's critics can not stand straight in His close proximity)
Sri Gokak was also there, and he was watching us smilingly. Baba looked at Sri Gokak and pointing towards me said to him, "Poor man, I love him."
Then facing towards me Baba said in Hindi, "Andar Jao Abdul. (Go inside the room, Abdul.)"
I went inside, then Baba came in.
Baba switched on the fan and sat on his special chair.
I sat at his feet and started weeping profusely.
Baba – "Sit properly and do not make noise by your weeping. Why fear when I am here. You are Abdul – my Abdul, and I am your Razak – you know, is it not?"
My wet handkerchief was of no use then. I straight away wiped my eyes and nose with the hem of my nehru shirt and tried to control myself. After a few minutes, Baba said "Abdul, look up," and I raised my head slightly. Baba moved his right hand, palm facing downward, around my head and I noticed white vibhuthi appearing in the centre of his palm. In the same flow of movement of hand, he held his palm upward facing me – Abhay mudra – indicating not to fear. I saw a small white spot of vibhuthi at the centre of his palm.
Baba – "Eat it all. You will feel relaxed."
I ate the Vibhuthi as ordered by Baba, and became calm.
Baba – "How is your new principalship, sir?"
I – (Oh! Baba knows it all) "I am happy with my new position Baba."
Baba – "Do not be over happy. It brings sadness afterwards."
(I did not say anything and kept looking at Baba)
Baba – "I know that you teach law very well. What is law?"
I – (As a professor of law, I was first puzzled at this unexpected question) "Law means rules of behavioral discipline enacted by the Government for the betterment of society in general."
Baba gave big smile and I became a little relaxed.
Baba – "Bookish answer! Tell me Abdul, why do you give notes to the students in the classroom by dictating from your note book?"
I – "What is wrong with that, Baba?"
Baba – "Very wrong. Why not dictate notes from your memory rather than your note books?"
I – "Baba, it is very difficult to memorize law subjects for dictation."
Baba – "Nothing is difficult. Don't you give your clothes to the washer woman here every morning? Thousands of devotees give their soiled clothes to the washer woman every day. The cleansed and ironed clothes are correctly delivered to every family, the next day morning. Do the illiterate washer woman ever make notes of the clothes and the owners? How does she remember correctly. Sincerity is natural. Seriousness is unnatural. From now onwards be sincere always and I -shall see that you give better notes by dictating from memory. Nothing is difficult for a devout person. Devotion is devoid of difficulty. Man makes law for man. How can it be difficult? Law is sad but simple. PRESENCE OF LAW MEANS ABSENCE OF LOVE. Breathe love and law dies."
Oh! such an easy and great thoughts! Why I could not think of them earlier all these years? Because of 'I' the ego. And Baba is omniscient – knowledge himself! Thus, I was wildly thinking. I was very quiet. Baba took out a handful of Vibhuthi packets, gave them to me and said "For your family members. I will see you again tomorrow morning, and you will not miss the bus to Bangalore tomorrow."
That night I could not sleep and felt elated. There was no point in trying to solve the enigma of the bus – whether I missed it or I was made to miss it! I realised the meaning of what Baba once said about the events and happenings in one's life which are not like normal events. I was also happy as Baba said "I will see you tomorrow morning".
After the Monday morning darsan, I saw a group of foreigners, five ladies and four gentlemen, accompanying Baba for the interview and I became worried whether I will be able to depart by the 10 o'clock bus. Baba instructed the group to proceed, turned back and beckoned me. In the outer chamber, Baba asked a few of them some questions, gave advice to all, created vibhuthi and distributed it to everyone. Then he called each one for individual interview in the inner room. (On some occasion there could be about forty persons for personal interview. Only after the interviews are over and Baba leaves, all others in the outer room go out.)
I went inside, then Baba came in and sat in his chair. I fell at his feet. Bowing down to Baba's feet is an insatiable desire of Baba's devotees.
Baba – "I know that you have faith in me, but you do not believe in my power with which I create articles. Is it not so?"
By this question, Baba captured me fully. I could not think of anything to say. In a way, I was happy that finally this topic has surfaced as I was still not fully satisfied on this account. I wanted to see and experience it myself. During the past five years, I spoke of Baba and about Baba to scientists, doctors and other learned persons. I could not answer their questions on creation of objects from air. I felt it may be because I did not experience it or I had no adequate knowledge about it because of my half-hearted efforts.
One should be aware of the well known fact that in this universe creation is a mystery. Right from the beginning of the world-of-science to todays modern science, no scientist has been able to give true explanation of creation, i.e. how and why? He is able to describe it only. For example, a child is conceived by mating a male and female. Perhaps this can be explained more with the help of science. But no one is able to answer "Why?". Let us consider another example. Water is formed by mixing two atoms of hydrogen and one atom of oxygen – H2O. But this process needs a catalyst. One cannot make water just by merely keeping two parts of hydrogen and one part of oxygen in a bottle. In what manner the catalyst acts is a mystery of nature. In breath, after inhaling we absorb oxygen and exhale carbondioxide; in plants and trees it is the reverse, thus maintaining a balance in the atmosphere. Who controls, manages and maintains this balance?
Science says that knowledge can be divided into two parts – one the known and the second the unknown. We assume that as science progresses, the unknown goes on decreasing.
Adhyatmic gyan (spiritual knowledge) affirms that there is profound knowledge beyond the reach of science, which can be experienced from within one's Self and not in the laboratories. My understanding on this is that instead of debating on this issue, we should embrace both and progress. Mankind needs both spiritual discipline and scientific discipline to live a meaningful and happy life. Without internal worship, real external happiness cannot be experienced fully. Creation is an internal and universal truth. When one experiences this within one self, then both these systems are complementary to each other and not otherwise.
I was not keen on knowing the methodology of creating material objects from nothing. I wanted to witness it to know if it is a natural phenomenon or magic. Baba has given me an opportunity today.
I – "Forgive me Baba. It is so."
Baba – "Your absence of belief in my power of creation is genuine and inquisitive also. I like your frankness and love you. It is very good that you do not take anything for granted. Your faith in me is not blind. Very good. Now I am telling you to ask me for anything and I shall give it to you here and now. Take your time and ask for anything you desire."
Now I had a break. I had seen a number of objects created by Baba and handled them also. I was convinced about the genuineness of the articles, but I was not sure whether Baba himself created them. After thinking for a while, knowing very well that there were very few Muslims among Baba's devotees, I decided to ask for an impossible article no one has seen so far!
I – "Baba please give me such a thing which embodies in it the entire universe and only my own religion is shown on it."
Baba – With a sweet smile "Abdul, do you really think that you have put an impossible request before me?"
Without a reply, I only kept on staring at Baba.
Baba – "Look at my palm. Do you see anything in it? Nothing is in my palm or behind it. You can verify it."
Baba turned his palm upside down, his cape was above the elbow. I could not dare to hold his hand. Then Baba caught my wrist forcefully and moved my palm from around his palm to his elbow.
Baba – "Now, go on looking at the centre of my palm for some time."
Within seven to eight seconds, the skin in the centre of His palm opened up and I saw a roundish large sized object coming out of it, soon the skin became normal as before and there was a beautiful luminous ring there.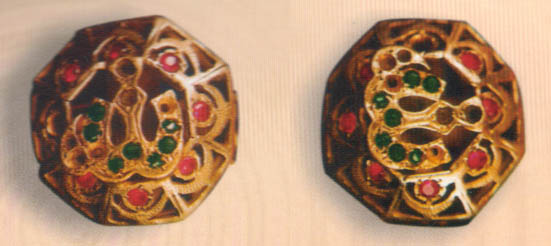 Baba – (In Hindi) "You pick it up and give it in my hand. Before that have a careful look at it."
As ordered by Baba, I picked up the ring and inspected it very carefully. It had a crescent moon and a star engraved in gold. I put it back in Baba's palm.
I – "Baba I cannot understand anything about this ring. Please explain."
Baba – "You are only born as a muslim. You do not understand anything about Islam."
That was the truth. Earlier I mentioned my religion to Baba to take his test. I am not a religious person in the true sense.
Baba – "I have made this gold ring in Asta konas (Octangular), embedded Nava-ratnas (nine gems), both represent the universe, and in the middle of the navaratnas I have put the Islamic symbol of the star and crescent in emeralds (green gem stones.)"
I – "Baba where is the Muslim religion on this ring".
Baba – "Look at these green stones. That is your religion. Now I will put this ring on the fourth finger of your left hand as your right hand finger is disfigured."
With this talk, Baba put the heavy ring on the said finger. Ah! It fitted perfectly. I bowed down again at his feet, now with plenty of tears. After a few minutes, I followed Baba to the outer chamber. Baba told the nine foreigners, who were waiting in there, about the ring and me as "My naughty (knotty) devotee?"
I came to the outer veranda. The fourth finger of my left hand became heavy with the ring. The ring is a heavy sparkling beauty. Sri Kasturi's attention was drawn to it at first. He raised my palm, examined the ring minutely and exclaimed" I have never seen such a beautiful creation by Swamy so far! These are navaratnas. But what is this in the middle green portion of the ring? Is it Aum?" Dr. V. K. Gokak, who also examined it, said "It is not Aum certainly. Whatever it may be, this ring is an exquisite beauty. I am too witnessing such a creation by Swamy for the first time." A few other devotees also saw this ring and touched it to their foreheads and eyes.
I had almost lost my speech, finding it difficult to utter even a single word. As I came into the darsan hall, a very large number of devotees surrounded me, amongst them many foreigners were also there.
One of them was a bearded American devotee. He came near me saw the ring closely, took my hand with the ring, put it on his chest and said "All Hum do Allah! (Oh! God, your pastime is fathomless)."
I was astonished by this and asked him to tell me more. He answered "I am a Muslim. The ring reveals that you too are a Muslim." I asked him again "How did you make this out". He said "Can you read Arabic?" When I answered in the negative, he clarified "It is inscribed in the middle all in green." I further asked "What is the meaning of the inscription?" He answered "It is Allah in Arabic."
Only at that time I came to know that Baba has inscribed the word "Allah" in the centre of the green emerald stone. I had asked Baba for my religion, and Baba blessed me in this wonderful manner! Then only to my surprise I realised that Baba spoke of the disfigured fourth finger of the right hand without ever seeing or touching it!
I returned to my quarters, and then remembered that I was to catch the 10 o'clock bus and the time was 11.30 a.m. Without taking lunch, I left hurriedly to the bus stand, where I was told that I can easily go to Kolhapur with a little discomfort of changing buses on the Puttaparthi – Anantapur – Bellary – Hubli -Kolhapur route. Immediately I boarded the bus for Anantapur and reached my place on the next day early morning. On an empty stomach, and sleepless night. I did not feel any fatigue or tiredness. Where was I? I was fully lost in the ring!
---
My eyes also see you without you knowing it whether I look at you or not is of no importance. For there is no way that you can gauge my look and the meaning of it. It is 'ego' to be so keen about wanting to see. Being seen by God, that is what it is all about. And God sees everything and everyone.
BABA

---
5. ONE MORE MIRACLE
(Before narrating the undermentioned episodes, I have to state a related truth in my personal life. I was married twice. We all have been happily living together.)
As per the routine, I went to Puttaparthy for delivering lectures in the second week of December 1982. After Baba blessed me with the ring, I stopped dictating to the students from notebooks. Being the month of December, the number of foreign devotees was increasing. Almost all the foreign authors, who have written books on Baba, are seen daily sitting on the veranda for Baba's darsan. I do not know how Christmas (25th December) and New Year (01st January) are celebrated at Vatican City. By the manner in which these two events are celebrated by Baba at Puttaparthy, we can understand why millions of Christian devotees from world over believe that the Holy Soul of Jesus Christ has ascended on this earth in the form of Baba. Lacs of Christian devotees from almost all countries in the world come to Puttaparthy during December – January every year because of this. I must say here that almost all foreign devotees of Baba donate liberally to Baba's projects and pray to Him to accept it as a token return of the spiritual strength and wisdom they receive from Him. Many of the Indian devotees are not so liberal always, and come only to gain something.
It was a Saturday evening, and my last day of darsan of Baba in December. Baba came out on the veranda, spoke to the foreigners, especially the authors of books, for quite some time. He then walked to the other end, came towards us again and spoke to a devotee sitting next to me. I first took Padanamaskar and resumed my sitting position doing namaskar. In a way Indian devotees become foreigners in December! Baba walked a few feet away, returned and looking at me said loudly "Abdul bring your wife next month." After that he walked a few feet away and started talking to someone. I was doubtful – which wife? senior or junior or both? But how can I clarify from Baba in this crowd? Does Baba know that I am the husband of two wives? Would he approve of it if he comes to know? Baba came closer to me again, bent a little forward and whispered "Second wife." I was relieved – it was clear that Baba heard all the doubts arising in my mind!
While on my return journey, that Sunday afternoon, my circle of thoughts started – What for Baba has asked me to bring my second wife? Why not the entire family? Why not the first wife also? What will she feel? Will my second wife, Naseem, agree to come? Impossible. She is a very orthodox Muslim woman, does Namaz five times a day and has reverence for Quran only. She is uneducated as well. Would she consent to come to Puttaparthy? Baba does not impose anything on anyone. Then why is he insisting about my second wife? Is it not sufficient that I am a devotee? No, Baba never does any injustice. In this, Baba must be having a secret plan! etc. etc.
Thus I returned in a confused mind. My next lecture commitment at Baba's University was at the end of the third week of January 1983. As travel reservations are to be done a week in advance, I called my second wife, Naseem to my room a week in advance of my departure, and told her that this time we both will go to Puttaparthy. She said (In Hindi) "Mai our tumhare saath udhar aau? Butparastike liye aur main? yeh gunah mujse kabhi nahi hoga. Mujhe dojak me nahi jana hai. etc."
(Who me! To accompany you for going there. For worshipping on idol? I can't commit such crime and I do not want to go to hell, etc.) I had expected such an answer from her. Even if Baba had told me, I never liked to impose it on anyone. I never spoke of Baba or impose devotion to Baba on anyone who followed his religion, God or saint. Baba has sternly warned on this point. In my twenty three years of academic teaching career, I never told my colleagues or students that I am a devotee of Baba. In spirituality, rather than cause the final effect is important; all the causes originate from Him, from that seed only. "Ekoham bahusyam."
Naseem is a firm Muslim believer. I can also say a fanatic in her beliefs, who would have preferred 'Talak' (divorce) rather than taking part in any irreligious activities. I thought of giving one more try in this matter. Since I was teaching 'Muslim Law' for the past ten years, I know much more about 'Quran' and 'Hadis' than others. The following conversation took place between us.
I (In Hindi) – "Dekho Naseem, meri baat jara dhyan se suno. Puttaparthi jakar vahake mandirme jana, ya Satya Sai Baba ke samne hath jodna, unke pair chuna, adi kaunsibhi baat ki jabardasti nahi hai. Turn sirf mera sath nibhanke liye chalogi. Aakhir, Shauhar uski bibika majhabi khuda hi to hai na?"
(Naseem you listen to me attentively. I am not forcing you to go to any temple at Puttaparthi, or to do namaskar to Satya Sai Baba or bow down at his feet. You will just accompany me. Is it not that a husband is also said to be a religious God to his wife?)
Naseem – (Sharply) " Apne fayideke liye Hadiski bate mat karo. Abhitak to aapne vaha chalneke liye kabhi nahi kaha tha. Is barhi aap mujhpar yeh jabardasti kyon kar rahe ho?
(Do not talk of Hadis for your advantage. So far you have never asked me to come there. Why are your forcing me now?)
I – "Mai jabardasti nahi kar raha hu. Khud Satya Sai Baba ne tumhe bulaya hai."
(I am not forcing you. Satya Sai Baba himself has called you.)
Even if it was against her will, the panacea of Satya Sai Baba served the purpose and she replied.
Naseem – "Theek hai. Mai aungi. Lekin meri yeh shart rahegi. Mai vaha kisikebhi samne mere hath jodungi nahi, Pair chuna to namumkin."
(Alright, I will come on the conditions that I will not do namaskar in front of anyone and also bow down to anyone's feet)
In my mind, I prayed to Baba for forgiveness and said
I – "Munjur".
(I agree.)
I made advance reservation of two seats for our journey by bus, and started on a Wednesday evening in the third week, January .1983. We reached Puttaparthi next day afternoon, had bath and lunch, and went for darsan. I instructed her to sit on the ladies side and when I raise my hand she must get up and come in the direction which I point out. If Baba goes to her side and summons her, she should immediately come to the veranda side. After hearing carefully to what I told her, she said "Mai firse kah deti hu, Mai hath nahi jodungi". (I am telling you again, I will not do namaskar). I assured her and said "jaise tumhari marji." (As you wish).
Baba came. First he went to the ladies side, then to the gentlemen's side, thereafter to the verandah. Although Baba was seeing me after a long time, he recognised and came to me. I did padnamaskar. He said "I Know that your wife has come," and went away.
On the second day, that is Friday, while going for the evening darsan, I repeated all the instructions. I gave her yesterday. She'said "Thik hai. Lekin mai firse dohrati hu ke mai hath nahi jodungi, Pair nahi chooungi." (Alright. But I am again telling you that I will not do namaskar or bow to anyone's feet.) I felt that since all this was happening against her wish, Baba should not have invited her!
Baba came out, looked at me, went to the gentlemen's side, then to the ladies' side, returned to the verandah, stood near the door and beckoned to me. With folded palms I went to him "Call yor wife" Baba said. I raised my hand signalling her to come. Then I saw her getting up from among the crowd and walking towards the verandah. Oh! I Was very relieved. Actually, I was apprehensive after I signalled her to come. If this woman does not come, then what should I do? But she did came. (Baba's great luck!). Baba asked us to go inside, which we did. He followed, shut the door and drew the curtain behind. I bowed down at his feet. He stroked my back with his hand, and instructed me to sit on the right side of His chair. My wife bore a taciturn face, did not do namaskar or bow down at his feet. However, On Baba's face was a celestial smile, which I felt was more prominent today. Baba did not create Vibhuthi, although it was his usual practice. He seemed to be in an altogether different mood.
I – "Baba, Please forgive her".
My wife, although she does not know English, she can grasp what is being spoken.
She understood why I put this request to Baba, and gave me a look of disapproval.
Baba – "Keep quiet. You talk too much."
I became mute. I am giving below a brief in English of the conversation between Baba and my wife in Hindi.
Baba – "How are you, my bachhi (child)?"
My wife did not feel like answering, but the word 'Bachhi' made her open up. Looking at floor, she answered.
My wife – "I am fine."
Baba – "How many children do you have?"
Naseem – "Four. Three sons and a daughter."
Baba – "What do they do?"
Naseem – "Two are practicing law. Two are studying. Daughter is doing medicine."
Baba – "Very good. I am very happy."
After this my wife felt better, but I was uneasy. Then Baba turned towards me, enquired about my teaching at the college. He advised to be careful regarding my work at college in general as in the near future I may have some problems with the management. He further said that I must increase my tolerance and fortitude. I heard it all but was still very uneasy. Baba laughed a bit slyly. Baba must have seen through my disturbed state of mind, otherwise why should he laugh slyly?
Baba – "Abdul, tell me if you desire anything from me."
I – "Nothing Baba. But ....."
Before I could complete the sentence, Baba indicated by his hand to stop talking. Athough Baba told me to ask, I was not in an appropriate state of mind to do so. Naseem was sitting in the meditative position of Namaaz, with face looking down and both hands folded on her knees.
To my wife, Baba said again "Meri bachhi" (My child). Using vocative case is very touching. I experienced this when Baba called my wife "Meri bachhi!" Naseem became slightly relaxed and for the first time raised her head to look at Baba. In a very casual manner, Baba asked her "Don't you want your own son?" Now I became completely relaxed. With this question, Baba gazed into Naseem's eyes without batting his eyelids. It is well known that while Baba is talking, his eyelids move faster that those of others. Naseem was transfixed with her eyes looking at Baba only. This divine communion went on for a short time. Then suddenly, as if pulled by some invisible force, she fell at Baba's feet and plaintively mooed "Oh! Mere Baba." (Oh! My Baba.) Her whole body was trembling. She was profusely weeping and washing Baba's feet with her tears! I was about to go near her and help, but Baba signalled me to sit quiet. Baba picked up his handkerchief, wiped his face and lips and sat at ease. Except for the sound of Naseem's sobbing, there was pin-drop silence.
After a few minutes, Baba said "Utho men bachhi" (get up my child). Naseem managed to get up and sat there only. In her hand she held a corner of Baba's robe which was hanging on the floor. Some devotees may not be aware of the fact that, in his present avatar, Baba never touched any of his female devotees.
Baba looked at me, kept his hand on my left shoulder and told me to sit next to my wife, who was still sobbing. Continuing to look at me, the Avatar said "This lady is pregnant from this moment. She will deliver a very intelligent son on a nationally important day. She will deliver one more son on another important day." Oh! My jaw dropped and I was amazed. Slowly speaking, I said "Baba, the doctors confirmed that.........." Cutting off my sentence, Baba said "What doctors? Doctors – I am the Doctor of doctors!" Naseem and I both understood, and both of us fell at his feet again. In this manner, Naseem did 'Sai Namaz' prayers twice.
Baba then ordered us "Ab utho" (get up now), yet we could not stand up immediately. Baba created Vibhuthi in his inimitable way, put it in my outstretched hand and instructed me "Sab bachhi ko do" (give it all to my child). I did as directed by Baba, and she ate it all. I licked whatever vibhuthi was sticking to my palm. Baba then handed us ready made packets of vibhuthi and we all came out on to the veranda. From there, without talking to anyone on the way, we returned to our accommodation and lied down on our beds.
As a prologue to this Divine Drama, I have to narrate the following. I married my second wife, Naseem, about eight years ago. As she did not bear any child for long time, we consulted gynaecologists at Kolhapur who declared that it is not possible for her to conceive due to blockages of tubes and O-Rh-negative blood etc. Yet we continued her medical treatment by Dr. Nagavkar and Dr. Mrs. Meena Maladkar (Bhadre). Naseem loved my first wife and her four children without any reservations. The children also loved their 'Choti maa' as much as their 'Badi maa'. That is why, when Baba asked "How many children?" she was able to give a firm answer "Four." This being untrue and Baba not saying anything about it, I become uneasy and had little doubt about his omniscience! Another point for consideration was that before leaving for Puttaparthi we visited Dr. Mrs. Meenatai, and she told us that she will try artificial insemination next month, i.e. February.
After returning form Puttaparthi, on the second day I went to Dr. Mrs. Meenatai, and told her that Naseem is pregnant and will deliver a son and later on a second son. Meenatai looked at me doubtfully as she had thoroughly checked Naseem just prior to our leaving for Puttaparthy. Even her menstrual cycle was due end January. Then I narrated to Meenatai what all happened at Prasanthi Nilayam. She and her Bhadre family members were devotees of Sai Baba of Shirdi. She was suspicious of Satya Sai Baba. However, she said "I do agree that this is possible only with the 'Sankalp' of an Avatar. I am advising you not to disclose this till we are convinced by appropriate medical tests. Who knows? you may be disappointed." I agreed with her. However, considering my observations and experiences of Baba's 'Sankalp' so far I was confident that we will not be disappointed at all and in the next two or three days, I announced the news to all the members of my family, relatives, close friends and their wives. None of them approved of my haste, including Baba devotee friends and their wives. They were apprehensive that if this does not happen, Baba may be dishonoured. I did not agree with them and told them "There is no question of dishonour in this. If what Baba said turns out to be untrue, it will be known to the world that Baba is not omnipotent. In that case even I will have to rethink." A doctor devotee, who was a close friend of mine, took me aside and asked a delicate question, "Had you cobeded after the December course of your wife?" I replied, "Of course... Often."
On the appointed date, I took Naseem to the clinic – Apeksha, behind Ayodhya theatre, Kolhapur. After carrying out necessary medical examination it reported "the pregnancy has been clinically confirmed."
Immediately I told this news to Meenatai. Instead of congratulating me, she expressed her desire to know more about Satya Sai Baba!
News of this miracle by Baba spread amongst all his devotees residing at Sangli and Kolhapur. Baba did not look at me when I visited Prasanthi Nilayam in the first week of February 1983. I had this good news during my visit in the second week of March 1983. Baba did not come to my side at the evening darsan on Thursday. Next day, Friday, Baba came to me at the evening darsan, and I bowed at his feet. When I was about to convey the news, Baba said "I know you are very happy and Naseem is also happy, this is what is called 'Manushya Swabhav' (human nature). Bring the boy six months after his birth. I will perform his naming ceremony. And at that time bring all the members of your family. Don't forget to bring your first wife."
Naseem's pains started on 1st October and was admitted in Meenatai's Maternity hospital. As the delivery did not take place for the day, Meenatai decided to carry out Caesarean surgical operation. She was bit worried about getting suitable blood if needed, because 2nd October was a holiday, being Mahatma Gandhiji's birth anniversary, and the following day was also a closed holiday, being a Sunday. Where can we find a donor of her blood group? With much difficulty we could get half a bottle of blood from the Pramila Raje Hospital. Meenatai, an experienced and skilled gynaecologist, was hesitant to carry out the surgery. At last I said "Tai, please do the Caesarean surgery. Whatever is to happen will happen." She did, and a baby boy was born. Surprisingly, there was negligible bleeding. From this experience I realised that all this was Baba's wish and resolution, and has happened as per His plan. What can I say but that this is Baba's method of testing a devotee's devotion, patience and endurance!
In this manner, as per Baba's 'Sankalp' Naseem gave birth to her first son on 2nd October coinciding with the birth centenary of Mahatma Gandhi – a National Important day!
Six months after his birth, we took this baby boy to Prasanthi Nilayam for the naming ceremony by Baba. With me were my mother, both wives, three sons, daughter, eldest daughter-in-law, grand daughter, some devotee friends and of course the baby boy – altogether about 35 persons. On Friday, Baba gave a group interview to all of us, in the outer room. During the personal interview in the inner chamber, Baba spoke to us which left everyone weeping. Baba identified my elder wife, made her sit with Naseem and told me to be seated in between them. Then he went near my elder wife, from his palm created a Muslim style gold 'Mangal Sutra' (auspicious marriage chain), and asked me to put it around her neck, which I did, Afterwards, he went near Naseem created similar, but a little larger, (to suit her measurements) gold 'Mangal Sutra' and asked me to put it around her neck, which also I did. In this manner we were married again, which Baba calls 'Spiritual marriage – marriage of the souls'. Again Baba made a circular motion of his hand, created small gold locket with chain and instructed Nassem to put it around the neck of the baby boy, which she promptly did. Then Baba told us to wait, went into the adjoining room, returned with two differently coloured silk sarees and gave one each to my wives. Jokingly he said "These are mill made,"
Turning towards me, Baba asked "What name do you wish to give to your son?" I replied "Baba, he is your 'Sankalp Putra' (born out of your resolution). You please name him. "Baba said "You are right, this is my gift. Sai's gift. Gift means 'Baksh' so he is 'Sai Baksh'. Our eyes were filled with tears of joy. Thereafter, Baba created handful of vibhuthi, distributed to all of us, and picked up ready made vibhuthi packets which also he gave us. Addressing all of us, he said loudly -
"When you are happy, I am happy. Your happiness is my happiness.
There is no other reason for me to be happy. Today I am very happy, I bless you all."
There have been similar miracles in the lives of Sai devotee friends as a consequence of which phenomenal changes took place in their spiritual lives. I was a witness to all these miracles and changes. However, it will be out of place to narrate them here.
After the naming ceremony, the following events took place.
Baba interviewed my eldest son in the inner chamber, He did not materialise anything for my son (Miracle no.1). Baba gave a beautiful wrist watch to my second son and warned him "If you take a wrong path the watch will stop." After a few days the watch stopped & still It is not functioning (Miracle no.2). He gave a pen to my third son and advised him similarly, After a few days the pen stopped working forever (Miracle no.3). Baba told my daughter that her wish will be fulfilled. Long afterwards, her inter-caste marriage took place as per her wish. She told me that her desire was fulfilled as per Baba's blessings only (Miracle no. 4).
During the abovementioned events, my daughter-in-law had to take her crying child outside and sit there, she was also two months pregnant. When I mentioned this to Baba, he said "I will see her tomorrow." Accordingly, Baba interviewed her the next day. Later on in time she delivered a boy, whom we named 'Abdul Sai' (Miracle no. 5)
Tarabai, our maid servant, was also in our interview group. She was sitting in the far corner behind us, and our pride made us ignore her. She was employed in our house as a servant girl and worked till she became old. How can we, the affluent persons, remember a servant woman when we were being interviewed by Baba? But Baba is Baba! He knew her value as an integral part of our family. He invited her to the inner chamber and gave her interview for considerably long time. By this Baba conveyed an important message about human values to all of us. I felt that we were fit only for whipping. Much afterwards, I casually asked her "Tarabai what did Baba speak about to you for so long?" She replied "Baba first generally enquired about my family and told me how to conduct myself and adopt a spiritual way of life through bhakti marg. He instructed me to take good care of my aging husband, educate my son well and blessed me saying that my daughters will be married well in time, etc.." (Miracle no. 6)
Tarabai no longer works in our house, because of her age. She is happy that Baba's blessings have come true. Her son is educated and well employed. Her daughters are married and her husband is in good health. She is happily living in the house her son built along with all her brood. Every day she invariably worships Baba.
Naseem gave birth to her second child, a boy, on 19th November 1984. 19th November is the birth date of Smt. Indira Gandhi! Dr. Mrs. Meenatai had to perform Caesarean surgery this time also, surprisingly there was no bleeding. The naming ceremony was done at our home and the boy was named 'Sai Kalam' as per Baba's wish. The sacred verses of Quran are called 'Aayat' and the second line of 'Aayat' is called 'Kalam'.
Baba made all the abovementioned incidents to occur on Fridays, although Thursdays are celebrated as Baba's sacred days. Baba does not stress on this. But for us, why it was Fridays only can be easily understood. The important thing to understand in this connection is that whatever Baba does is only to make his devotees happy.
---
Eyes made of earthly material, intelligence shaped out of incompetent senses – with these you cannot comprehend Me. The Jnananethram, the eye made of pure wisdom, that alone can see the Lord in all his glory. That eye is won by Sravana (hearing), Manana (reflecting) and Niddyasana (Meditation). Listen with faith; reflect with discrimination; meditate with one pointed devotion. Then the truth will be revealed and doubts will disappear
BABA
I am all forms ascribed to the Almighty; I am the embodiment of perfect Peace. I am known by all the names through which the Almighty is addressed and adored by man. I am the embodiment of Goodness; I am Being-Awareness-Bliss, Atma, the one without a second, Truth, Goodness, Beauty.
BABA

---
6. ORDER FOR ME
In mid 1984 (probably August) I went to Puttaparthy to deliver lectures. After the evening darsan, on the first day, I went to the main gate to go out and have tea in a hotel opposite the gate. I was surprised to see the gate closed and guarded by volunteers. They told me "Sorry, sir. No devotee is allowed to go outside. All over Andhra Pradesh Political riots, arson and looting was going on resulting in firing by the police in many places. There was tension even in Puttaparthi village. All hotels and shops outside Prasanthi Nilayam were closed indefinitely. Curfew had been imposed and police were patrolling outside." I turned back and went to my accommodation. The University and the college were also closed as they were outside the asram premises. On the second day, I went for the morning darsan only to know that darsans, both morning and evening, were cancelled from that day for eighteen days, so also interviews. Instead, Swamy will be delivering lectures on Gita, both morning and evening, inside the mandir for all these eighteen days. Baba named these lectures as 'Sai Gita'. After attending one or two lectures I stopped going as I became restless with a choked up feeling. You may not believe the causes for my restlessness. First one is that I was unable to go out to the hotel and have tea which I liked. I did not relish the canteen tea. The second one is cigarettes. It had become my routine to go out of the asram after dinner to Mukherji's shop and smoke two cigarettes, return to my room and then only I could sleep. I never smoked within the asram premises including my accommodation in compliance with the asram rules. I was in a troubled mind – cigarettes were not available, Mukherji's shop was closed and we were not allowed to go outside.
A more important reason was when and how will I reach Kolhapur to fulfil my duties as the Principal of the Law College? In addition to the Principalship, I was teaching four subjects. If my departure from here is delayed any more, I will not be able to complete teaching the prescribed syllabus well in time. Further, who will manage the college in my absence?
In this way a week passed by. Baba's lectures on 'Sai Gita' were continuing. Sitting in the ground outside the mandir, I tried to listen to the lectures. My mind was not in it and I felt helpless. One day, I went near the closed main gate and noticed the pan-beedi shop on the opposite side of the road, partly open with some customers standing in front of it. The volunteers at the gate knew me as a regular devotee coming every month and that I am one of those sitting on the VIP veranda. On my request and promise that I will return in five minutes, they allowed me to go out. Except that shop, all other shops were closed. I bought some cigarettes and a match box. I went to the nearby bus stand to smoke, but seeing some of my students there, I returned with the cigarettes and match box in my pocket, went to my room. Finally temptation overcame my discrimination! I admit that I only knew the meaning of discrimination – at this juncture practising it was beyond me! I went to the toilet, smoked two cigarettes one after the other, gargled, went to bed and had a sound sleep. Like that the ninth day was over, and yet there were no bus services. A few taxis were plying to Bangalore, for which passengers had to pay Rs. 500/- per seat and also face the risks enroute. I was short of cash. Late in the night, I heard a knocking sound at my door and opened it. A volunteer, who was standing outside handed me a note. It had only one sentence in it – 'Vacate the room immediately'.
It did not take me long to guess the reason for this. The smell, actually the stink of the cigarette smoke, had reached Baba! I anticipated this, but my craving for smoking made me to take the risk. Despite of my closeness to Baba, my bad tendencies of childhood have not been fully wiped out. I am weak willed. I cannot give any excuses for my behaviour.
I could not sleep for the rest of the night. Early in the morning I packed my baggage, locked the room, after keeping the luggage outside. I went to the accomodation office, returned the key. Sri Kutumba Rao was there but did not show any sign of recognition.
I went back to the place where I kept my baggage, outside the room, and sat there. I had no appetite although I did not eat anything since morning. I was worried as to how to reach Bangalore enroute to Kolhapur. After some time, an Ambassador taxi, carrying a foreign couple and their daughter, stopped in front of me. On the front seat, next to the driver, was the same volunteer who visited me in the night to give vacation notice. He got down, kept my bags in the taxi and told me in faltering Hindi "Go in this taxi to Bangalore. You do not have to pay anything." I could not understand as to who arranged to send me this taxi, and who told that I had no money to pay for the fare: Who will pay Rs. 500/ – fare? Without worrying for the answer, I got into the taxi. It stopped at the asram office. Sri Kutumba Rao came and told me "These are devotees from West Germany and they paid for your taxi fare. Come next month."
Finally I was on the way to Bangalore. During the drive, my thoughts revolved round the events since last night. I was under the impression that my career at the University ended and I have lost my job because I transgressed the rules by behaviour. I thought that I had been discarded by Baba. I was now sure that all these thoughts were wrong. Baba in his immense compassion had pardoned me, which he conveyed through Sri Kutumba Rao. Otherwise, Sri Kutumba Rao could not have told me "Come next month!" Besides this, who else could arrange free taxi ride to Bangalore for me?
We reached Bangalore after about eight hours travel in the taxi. On the way, we had to remove about twenty road blocks put by the agitating mobs. The German, who could speak Pidgin English only, paid for the local help who removed the obstacles. I was exhausted, both in body and mind, and conversed very little. The German family got down from the taxi at the Hotel Ashoka, bid farewell to me and instructed the driver to leave me at the railway station, which was quite far from the hotel. How did this gentleman know that I had to go to the railway station? The person who ordered me in the middle of the night to immediately vacate the room, why should he take care of my departure and arrange things to ensure my comforts? Is this the work of an 'Avatar' or a 'Human being'? I was convinced that it was not the 'Avatar' but the 'Human being' – the 'Great Mother' in him did all this. This way 'Baba the Mother' had taken pity on me! After being slapped by him, the 'Mother Baba' had taken proper care of me!
I spent that night on the railway platform, and boarded a train the next day morning. I returned to Kolhapur after being away for thirteen days. In the afternoon, I went to the college and found a heap of letter on my table awaiting my return. One of these letters was from Bharati Vidyapeeth marked 'Confidential'. After clearing other work, I opened this envelope. It contained a memo from the management saying "You have not been performing your duties properly and have been remaining absent for a number of days without prior intimation and permission. You are requested to submit your answer in writing." Clarifying the matter, I wrote "Prior to accepting the Principalship, during the interview I asked a concession of five days leave including Saturdays and Sundays every month for visiting Sri Satya Sai Baba's University College at Puttaparthy which you agreed. This time, due to circumstances beyond my control, I had to stay away for longer time for which I apologise. I cannot avoid my monthly visits to Puttaparthy in future also. Yet I assure you that this will not adversely affect my teaching schedule in any way on the college management. In case you are not satisfied with my explanation and refuse the concession in future, you may treat this letter as my resignation."
Within a week I received the reply saying "Your explanation has not been found satisfactory. Your resignation had been accepted with immediate effect."
I did not blame Bharati Vidyapeeth for this outcome. One full time Principal was found negligent in performing his duties – that was management's view. I had no complaints either.

---
7. HARD DAYS
From the year 1984 to 1988 was a hard and difficult period in my life. It is not in my nature to grumble or narrate to anyone my difficulties, unhappily events and financial setbacks and seek their sympathy. Very rarely in extreme circumstances I talk about them to intimate persons, that too very briefly. Of late, my main intimate and close friends are Sai devotees. Whenever I meet Sai devotees, who are new to me, my tears of joy welcome them first. In every such meeting, I get the joy of getting the company of Baba himself and nothing less than that! Sai devotees come closer at human level and I get the feeling of familiarity and oneness with them, compared to the distant feeling with Baba the Avatar.
In fact, I had no intention of writing this chapter. After reading the previous chapters, you may form the opinion that in my life's Journey Baba has spread a bed of roses, and that too without thorns! Well this in not true at all. Despite of taking shelter under Baba's loving umbrella, the hardships I had to bear and go through can be described as not only hard and painful but also endless.
There are millions of Baba's devotees all over the world and Baba considers them as equal. Baba never differentiates devotees – as those who are near and those who are far away, those who sit near him and those who sit in the hall, those who sit in the car with him and those who walk alongside the car, and those who got interview and those who did not, Indians or foreigners, whatever language they may speak, whatever caste, creed or religion they belongs to, Baba showers his love on all of them equally. He does not differentiate between rich and poor, no devotee is different. I can assert this from my experiences. Many devotees have the misunderstanding that Baba discriminates and differentiates. This is superficial knowledge only and is wrong.
In this world, we often notice that misfits and undeserving persons are given VIP treatment and respect especially in social, cultural and political gatherings. When one sees similar happenings even in Prasanthi Nilayam, he is opt to misunderstand and misjudge. At that time one should ask himself as to who are these persons getting Baba's special grace? There are many answers to this question. In trying to answer this question, I have separated them into four categories. The first one are those who donate their hard earned white money unconditionally to Baba's welfare projects. The second are those carrying out special responsible duties in Baba's asram, hospitals, schools, colleges, university and other institutions. Baba's childhood friends and devotees form the third category. The fourth is limited to a few – whose only aim and goal is to spiritually advance and ultimately merge in Baba, these do not consider Baba as a means to fulfil their desires and get material benefits. It was estimated in 1988 that there are fifteen crore (hundred fifty million) devotees of Baba spread all over the world. How many amongst them are Baba's intimate devotees? As far as my knowledge and study shows very few. Yet why Baba should shower special grace on all the above mentioned four types of devotees only?
The answer to the above question is like this. Baba and all the millions of his devotees all over the world form a huge 'Sai family'. The head of this family is Baba. Baba takes care of every member of this family as per his needs (not will), as per his usefulness and capability. In comparison, even in our families every member is an integral part of the family. Yet the one who contributes more for the well being of the family is given more respect and praise. This does not mean injustice is done to the other members of the family. This is so in the huge Sai family also. One can only say that Baba's method of rewarding is different. Many have come to one or other of the four categories mentioned above, and many have not come to any category at all! Why? The answer can only be the past and present karma – that is the result of their good and bad deeds in their past and present lives. I have written about this in my first book.
In the first three categories of devotees, their number is quite large, and the fourth very few who consider Baba as their life's goal and not as an instrument for material gains. This means that a very large number of devotees take Baba as a tool to solve their problems, Practice worship and sadhana with the same aim. Here, a very important question is whether sadhana is for getting the instrument or it is for reaching the goal? I sincerely request every Sai devotee to introspect and find his own answer to this question. This does not necessarily imply that we the devotees should not present our problems to Baba. Otherwise what work will be there for the Avatar? Please understand that there is no paradox in what I am conveying. Is Baba an instrument for material gains and solving problems, or a life's goal to merge in? Once your sadhana is concentrated on mergence with Baba all other obstacles will slowly disappear; it has only one desire 'I want Baba'. When you are established firmly in this type of sadhana, karmic difficulties get mitigated, knotty problems become easily solvable, and you may not feel their pinch or harshness. Then life will be a little easy and bearable as well. After realising that you have Baba in you, will you be reading interviews or articles given by him? Once you have the giver, what importance have the given? Having reached the source of Ganga would you prefer the flow?
The above words and language are mine, but the thoughts are Baba's. Speaking generally, many times Baba said "These are all my part time devotees only!"
This does not imply one should chant endlessly "Baba, Baba..." No. While I was sitting on the veranda, once Baba told me "Every one comes to me for their work. No one comes for me." We all should ponder over this important statement of Baba, understand it well and direct our sadhana to get Baba only. We should try and understand his desire to transform us into better human beings and his sorrow at our failure, and correct ourselves accordingly.
Even an hour's loneliness becomes unbearable to us, We become uneasy, and yearn for some or someone's companionship. Baba is an Avatar, but having taken a human birth, He is all alone except during his darsans, bhajans and visits and discourses. What pals has he except we the devotees? What are we doing so that he does not feel lonely? The answer to these questions is "Do not ask anything from Baba, say to him "I want Baba". If this happens then Baba will not be able to say "No one comes for me".
At the beginning of 1984, my second son became an advocate. Further, he was successful in a competitive examination conducted for recruitment in a nationalised bank, with good grades. My eldest and youngest sons were running my income tax consultancy firm. That makes the number of earning members of our family as four. Because of this our monthly income was a little more than what is normally required by our family of thirteen members. We were then living in a rented house. Instead of this, it occurred to me that we can have a larger house built by taking a loan from a bank which can be repaid in instalments with our surplus income. We decided finally to build it at Jaisingpur, my birth place and purchased a plot of land, large enough for a big house for four families. We made a part payment as advance for the land, balance of which was to be paid within a year. Naturally, the estimated cost increased, making us realise that a bank loan will be insufficient to meet the escalated cost. To solve this problem, we decided to collect advance fees from selected clients. I prepared a list of such clients, and along with my eldest son we approached a client. After explaining our requirement, we were to request him for Rs. 5,000/- only. He readily agreed and gave Rs. 1,00,000/- in cash. We collected some advance fees from a few other clients also. Unfortunately, soon after starting the construction, I lost my principalship at the Law College at Kolhapur. After this blow, my second son who appeared for an examination for appointment in a nationalised bank received a letter stating "Due to directive from the Reserve Bank of India filling up of vacancies in the bank have been stopped. In view of this, we cannot appoint you, even if you were successful in the examination."
The construction of the house went on and was completed in time. We shifted to this new house and started living in it without performing the customary 'Vastu Shanthi' and other traditional rites. I was not at all in favour of performing them. I firmly believed that if we are at peace, our home would also be at peace!
The bank interest and monthly repayment instalments started increasing. Since we took advance fees from our clients, there was no income from that source; consequent to my losing the principalship there was no regular income as salary either. Till then we were living very well. With these unforeseen large reductions in income, there was scarcity of funds even for buying normal, monthly provisions. How can we pay the bank interest and monthly instalments? I sold my car and bought a scooter. With the remaining amount I could pay bank interest only.
Among the students of law colleges at Sangli and Kolhapur, I was popular as a good teacher. Why not start coaching classes in law at both these places? I took a bank loan again for renting places to conduct the classes, buying books etc, and advertising also. I started morning and evening classes three days in a week at Sangli and three days in a week at Kolhapur. The response was very good and encouraging, but all the income went into the bank interest only! The distance between Kolhapur and Sangli is fifty kilometers. After attaining the age of fifty-plus, I was travelling this distance by scooter to teach the students and augmenting my income!
Someone suggested that I should start a posh consulting office at Kolhapur. Once more I took a bank loan of about Rs. 40,000/- to hire the office premises and meet the preliminary expenses, and two partners to assist in the work. This decision went wrong and created hell for me. The burden of loan became heavy.
All these increasing difficulties have caused tremendous pressure on all the members of my family. The bankers started demanding early repayment of the loans and even were sending notices to me and the sureties also. We almost got a notice of attachment and auction of the house. Even the client friend, who gave me an advance fee of Rs. 1,00,000/-, was insisting on repayment. Bluntly he told me to sell the house, shift to a rented place, and clear the debts. I flatly refused and told him "I will never sell the house. I am prepared to undergo any difficulties and will return your money certainly when possible for me to do so. If you do not agree you may go to court."
From 1984 to 1988, because of all these very difficult circumstances, I and my family, especially the children, had to go through many privations. My health worsened. But, in all these five years, I did not miss Baba's monthly darsans. The only difference was that devotee friends of mine were meeting all the expenses on this score. During this period of extreme financial difficulties, I did not project them before Baba. I felt that I have acquired Baba and He is in me, in my blood and breath. All these external difficulties are the result of my own foolish actions, and so I have to endure them. I am convinced that Baba is omniscient and he will intercede as he wishes. How can a devotee have the authority to decide when and how Baba must act? In this situation also I was shedding tears of happiness because getting Baba itself is an enormous wealth. Those who have acquired this wealth will have no fear of death – "Mrityorma Amritam Gamaya". Once you overcome this fear, then this life with all its ups and downs becomes bearable. Several times we become uneasy, worried, sorrowful and afraid of sickness. Are not all these related to death? It does not mean that we should never worry? Our pessimism must be skin deep only and must not be allowed to penetrate deeper inside to make us loose hope and inactive. It must not pollute or ruin our personality. This is possible only when a great divine soul like Baba be friends our soul!
Towards the end of 1988 I read an advertisement by Bharathi Vidyapeeth calling applications for the post of a Principal for their Law College at Kolhapur. This was of no help for me since the same institute gave me memo and accepted my resignation in 1984. How will they accept me again? I did not apply. To my surprise, after the last date for receiving applications was over, I received this message "Please meet the Director of Bharathi Vidyapeeth at the earliest." I went and met the Director. He said "We expected your application. Although you did not apply, we have requested you to come after the expiry of the last date for applying. Would you please take charge as the Principal again? I feel that the college cannot function properly without you! I will give you whatever concession you ask. Every month you can go to Puttaparthy. If you wish fill the form just now. I will give you the form."
Then and there only I filled the application form and gave it to the Director. The formality of interviewing all other applicants was taken care of by the management. I returned to Jaisingpur with the appointment order. As per this, my salary at the commencement will be 5,000/- per month. Unexpectedly, within four days my second son received an appointment order from the Bank of India, the selection examination of which he appeared four years ago. Thus, all of a sudden our monthly income increased by Rs. 8,000/-. Even the work of the clients, from whom we took advances fees, increased and the repayment was adjusted easily. With this increase in our income all the loans were cleared in an year.
Yet I have not become fully debt free. I call this resurrection of my life as "Baba's Grace", a debt from which I cannot become free. It is not necessary also. I call this bliss a donation. Baba never takes back whatever he gives.
---
The Divine can be grasped only through love, faith, and Sadhana, surcharged with Universal Love. Reason is too feeble an instrument to measure it. Denial of the Divine cannot negate it. Logic cannot reveal it. All the tirades now being made on the Divine are from atheists who are opportunists. People with a disease in the nose cannot appreciate the fragrance of a flower. Those who cannot appreciate or recognise the Divine are suffering from an illness which handicaps them to do so.
BABA
Hands that help are holier than lips that pray.
BABA

---
8. BIG INTERVIEW
In September 1990, I went to Baba after a gap of more than two and half years, i.e. after 30th January 1988. Our group of friends, with whom I made this trip, planned this visit to Puttaparthy well in advance. Seva Dal from Maharashtra were at that time on duty at Prasanthi Nilayam, Puttaparthy. To our disappointment, we came to know through them that Baba is at Whitefield asram (Brindavan) and not at Prasanthi Nilayam, Puttaparthy. Many wanted to cancel the visit as they were not in favour of going to Whitefield near Bangalore. Devotees, who are frequent visitors to Puttaparthy and Whitefield asrams, can easil,y understand this reluctance. It is a fact that many Indian devotees prefer to visit and stay at Puttaparthy because of the better and easier facilities available there, both inside and outside the asram. There is no accommodation inside the asram at Whitefield, and perforce the devotees to stay in expensive lodges outsides. Alternatively, one has to stay in a hotel or lodge at Bangalore and travel up and down to Whitefield, a distance of about twenty kilometers, which is expensive and tiresome. A more important reason is that most of the Indian devotees feel closer to Baba at Puttaparthy than at Whitefield, where people around Baba are mostly from the higher income group.
There are many books written on Baba in several languages – Indian and foreign. After reading these books, persons who seek his darsan go either to Puttaparthy or Whitefield. There is no difference in their love for Baba whether they go to Puttaparthy or Whitefield for Baba's darsan. Some feel more attracted towards Baba at Puttaparthy than at Whitefield. This is my opinion and observation. Now the question is why does Baba go frequently to Whitefield and stay there a number of days? The answer to this question is complex.
At Whitefield there are Baba's college and his residence. The residence is a two storied building with many rooms and large halls, well furnished and equipped with modern amenities. Baba's work is spread all over the world. In every continent of the world, every country and every city there are Sai Centres, Seva Dal Centres and devotees. It is so even in Iran and Iraq. I had talked to many Muslim devotees from these two countries, that too when the war between them was at its peak. Baba goes to Whitefield to preside over meetings of national and international committees and also to give advice and guidance sought by VIPs from all over the world. While attending to this work, he finds time to give darsan in the mornings and evenings also. In fact, he does not come here for giving darsan but comes to attend to the work mentioned above. That is why there are not enough arrangements for devotees who come to Whitefield for darshan. Out of ignorance, some may ask "Why such meetings are not held at Puttaparthy?" The answer is that Whitefield at Bangalore is more easily accessible to the VIPs coming from all over the world than Puttaparthy and time saving also. Considering the important Sai work these VIPs do, Baba therefore meets them at Whitefield. I request experienced devotees to guide new comers in these matters accordingly. Those critics of Baba who have remained critics even after taking darsan of Baba, are those who took darsan at Whitefield. I have not seen or heard anyone who took Baba's darsan at Puttaparthy after staying there for three or more days, criticising Baba.
In September 1990, my friends were against going to Whitefield. However, I could persuade them and we all, a group of twenty five including ladies, went there. Baba's 'Meri Bachhi', Naseem and his sankalpa putras Sai Baksh and Sai Kalam were also there. We stayed in a lodge at Bangalore and made daily trips to Whitefield for darsan. Before I tell you more about this visit and the 'Big Interview' let me go back to 30th January 1988, my last visit and interview. I have briefly narrated in my first book about the five Ds that Baba told me at that time. The five Ds are :-
1. Discretion
2. Determination
3. Discipline
4. Devotion
5. Dedication
If it is formed into a message, it will be like this – "Both in worldly life and spiritual life, choose what you feel is right. If you do not have the freedom of choice, accept what comes by as right natural selection." Baba says "Why should always do what you love to do and why not love that what you have to do? Once you have made your choice, pay full attention to it. Try hard and keep on with your efforts, in a disciplined manner. Do not overlook discipline. By this only devotion to your work will come. In due course, devotion will bloom into dedication and your life will be fruitful."
After instructing me about the five 'D's, Baba told me why I had to go through all those distressing troubles. It is because I lack the third 'D' – Discipline. Well, by now it is too late. Impossible for me to develop this as I never paid attention to this drawback of mine so far. I cannot wipe out all my age long shadows. Yet I am contented with whatever I received from Baba. Baba spoke of 'Resolution', 'Courage' and 'Self Control' also.
In the interview in 1988, I thought Baba will refer to the cigarette smoking incident when I was ordered to immediately vacate the accommodation and he will reprimand me severely. But Baba did not utter even single word about that. If it helps it is fine if not that is alright! What is the use of trying to make dried up plants to sprout? In my case, Baba overlooking my fault I call it a favour, a special concession. (Really speaking, this is my wishful thinking only.)
Sri N. Kasturi stands first among Baba's close devotees. Baba forgave Kasturi's abominable habit of using snuff for many years. He did not discard Kasturi but sometimes ignored him, that's all (Refer to the book 'Loving God'). Perhaps Shirdi Baba, who used to smoke a small pipe (Chillum), has in the present form become a little generous! (Again my wishful thinking).
The daily routine at Whitefield is a little different from the routine at Puttaparthy. Before morning darsan, Baba interviews some full time Sai workers, devotees actively participating in Sai projects and those who have done good work in other fields. To get an interview after the morning or the evening darshan is very difficult and exceptional. Besides this, at times Baba does not come in the evenings for giving darsan. In view of this, we all went for the morning darsan, normally.
Again I am recapitulating an interview given to me by Baba sometime in 1985 or 1986 at Whitefield. My first wife was with me in that trip. After travelling for about twenty six hours from our home town to Puttaparthy, we came to know that Baba left for Whitefield in the morning of the day we reached there. Although we were exhausted, had no bath or proper rest and food, we immediately went to ST Bus stand and boarded a bus for Bangalore. We did not have many days to spare, that is why we were in a hurry. Immediately on reaching Bangalore, we took an autorikshaw and went to Whitefield. We were fully bathed in sweat and covered with dust. Our hair as unkempt and dusty, our clothes were so much soiled and dirty that one cannot guess their original colour. In this condition we got down from the auto in front of the main gate enquired if we can attend the evening darsan. Alas, it was just over! The devotees were leaving and were on their way home. We sat there near the gate for some time. To my wife I pointed Baba's residence and told her "That is Baba's masjid (mosque). Our Paigamber (prophet) is inside. We will do Ibadat (prayer) in our mind sitting here. After that we will return to Kolhapur by train." Tired but with blissful mind we squatted there only. Except for a few volunteers there was no one on the ground. But we could see many well dressed ladies and gentlemen loitering near the residence. Their luxurious cars were parked in a line near the gate where we were sitting. When we were about to leave, a volunteer came running and informed us in half English and half Hindi "You both please come inside. Swamy has called you." Seeing that we got up without picking up our baggage, he said "Bring your bags with you." We picked up our bags and went towards Baba's residence. We got the smell of perfumes put on by the elite devotees waiting there. Many were wearing expensive clothes and costly jewellery. Some carried parcels in their hands. All were waiting to be called by Baba. Some of them, after looking at us, were whispering among themselves. We preferred to remain a little away from themselves. We preferred to remain a little away from them because we did not want to dilute their perfume. The gate opened and a volunteer peeped out. All those devotees stood up trying to catch the eyes of the volunteer. The volunteer saw us, took hold of our bags and said "Follow me." I felt that we may be pointing the perfumed atmosphere. From the faces of the waiting devotees they appeared to think that the volunteer made a mistake. I felt proud of myself! Why should I not? It is a confirmation that he is "Sab ka Malik" (The One who is above all and anything). If we do not feel proud of such incidents when can we do so?
We kept our baggage, chappals (shoes) outside and entered. The volunteer took us to the veranda and went away. First we peeped into a hall. Baba was not there. Then we went into a second hall and then a third. Everywhere, we saw elite ladies and gentlemen dressed in expensive clothes and wearing costly ornaments. But where is Baba? At last I told my wife to sit in the corner of a hall and I also reclined against a wall near her, and was looking at the crowd. Just casually I looked up and saw a balcony, there were two open, doors, just inside I saw Baba standing and blessing me with "Abhaya" mudra with a cute smile. Hurriedly, I asked my wife to stand up, and we both did 'Sajda' (touching the ground with nose and forehead as in Namaz) then and there only. While we were doing this, the crowd inside looked at us first and turned in the direction where we were looking. All of them stood up and said resounding 'Sai Ram.' Suddenly Baba was gone and the doors were closed. The crowd again sat on the floor. Both of us were drowned in tears.
I felt that it was time for us to leave. Just at that moment, a volunteer came to us and said "Please follow me." He took us outside a curtained door and told us "Go in". Baba was sitting inside on a big chair, and no one else was there. Next to Baba was a large sandal wood idol of Ganesh. There were elegant sofas on all sides of the room. We went near Baba, bowed at his feet with eyes full of tears and then sat on our knees. Baba wiped his face with a handkerchief, and spoke to us in Hindi thus -
Baba – "Hamne tumko upparse dekha. Bahut thak gaye hai na. coffee pina hai?" (I saw you from the balcony above, are you very tired? Will you take coffee?")
I – "Nahi Baba. Hame Kuchh nahin chahiye. Jo chahiye tha wo tho milgaya." (No Baba. We do not want anything. We got what we had wished.)
Baba – "Bahut thaka hai. Aaj ratko turn idharhi raho. Kal mai car doonga." (You look very tired. Stay here tonight. Tomorrow I will give a car.)
I – "Nahi Baba. Shukriya. Aaj rat hi hum trainse jayange." (No, thanks Baba. Tonight only we will go by train.)
Baba – "Thik hai. Bachhe Kaise hai? Unko K.G. ke liye Puttaparthy bhejo." (Alright. How are the children? Send them to Puttaparthy for K.G.)
I – "Alright, Baba."
We again did pada namaskar and took leave.
You might ask me why I did not stay there. Oh! How can we get sleep when God is moving around in the next room. Also, in such circumstances, Baba tests devotees of their desires and endurance. No one in this world can know what is in Baba's mind. It is always better and safe for us to live as per our level and standard.
In this visit to Whitefield in September 1990. I was not in my usual mood, probably because of the two and half years gap. I wished for Baba's interview and also for his explanations to the questions and doubts I put forth in my first book, written in Marathi. I had also decided to write this second book after my discussions with Baba. It seemed that this wish may not happen. I sat in the rear for darsan. The other members in our group were also not in good spirits, especially the ladies, because at Puttaparthy they used to get good darsans in every visit. Yet a few of them were able to sit in the front row wishing a close darsan or if lucky Padanamaskar and Vibhuthi.
I had one more intention in this visit. I had cataract in both eyes. If I have to write this book, I must have clear eyesight. The cost of surgical operation for cataract was about Rs. 12,000/-. In addition, for about two to three months I have to take post surgery care with medicines and wear black goggles. After carrying surgery on one eye, the other eye will be operated on after an year. I was a bit depressed with all this. So in this visit I had a strange desire to request Baba to cure my eyes immediately just like that!
One morning we were sitting for darsan in a line, and there was a little time for darsan to commence. A volunteer came to me and asked "Are you Principal Korbu?" After I replied in the affirmative, he told me "The Boys' hostel warden has called you immediately." I followed the volunteer to the warden's room. The warden welcomed me and said "Please come in Principal Korbu." After offering me a chair, he continued "I know you since you used to come to Prasanthi Nilayam for teaching mercantile law at Baba's College. At that time, I was warden of the boys' hostel there. The boys liked your teaching very much. Today, I have requested you to come here at the instance of Swamy. Swamy will see you this evening at 4 o'clock, before darsan. Please come here a little before 4 p.m., and I shall take you to Swamy. Let us now go for darsan.
I went back for darsan. After Baba's darsan the crowds dispersed. My friends gathered around me as they had seen me going with the volunteer somewhere. I told them that I received a message from Baba to meet him at 4.p.m. "You alone or we also" was their immediate question. I replied "I do not know. I have to be at the warden's room a little before 4 p.m. I will find out at that time." After lunch in the canteen and resting under a tree, we gathered in the ground at quarter to four. I went to the warden's room on time. Another volunteer was there outside his door. The warden came out, said "Sai Ram. Let us go." All three of us went through the crowd towards Baba's residence. I had instructed my friends earlier to sit together and while going to the residence if I signed by raising my hand then they are to join me otherwise not.
The gate opened, only the volunteer and I went inside. The warden returned. Baba was addressing a group of students. Some one was sitting next to Baba. After removing my chappals, I stood inside at close vicinity so that Baba can notice me easily. After about fifteen minutes, the students left, and Baba beckoned me. I did pada-namaskar and was about to sit on the floor, when Baba told me to sit on the sofa opposite. The talks between Baba and the other person were over in a few minutes, and he did 'Sastang Pada Namaskar" to Swamy. When he was about to leave, Baba looked at me and said "Our future Vice Chancellor." (Name probably Sampat). Afterwards, pointing at me Baba told him "He is the principal of a law college in Maharashtra. Today he has come here to ask me a few questions. You may go." He bowed and left. Well, the clear meaning of this can be nothing but "This idiot is going to ask me a few questions!"
Baba stood up, and I too did so. He said "Come" and we came out of the house. Baba walked towards the gate keeping his left hand on my shoulder. When we came near the gate, the volunteer started opening it. I guessed that my meeting is over and Baba is going out to give darsan. My high flying hopes were crushed to the ground. Suddenly Baba waived his hand to the volunteer and the gate was opened. Standing at the gate and raising his hand in Abhaya mudra, Baba gave darsan to the devotees outside. Then he walked towards his residence. I did not know what to do. After covering a little distance, he turned towards me and beckoned. Again my spirits soared.
Baba took me to the same room where the Ganesh idol was there and where I and my wife did pada namaskar to him on an earlier visit. Baba indicated me to sit on the sofa opposite, which I complied.
The big interview was finally taking place! I realised that Baba's sentences were short precise and were in the form maxims.
Baba – "How are you, sir."
Oh! God. This addressing (sir) by Baba is a pointer to my increasing ego. Well, it is important that I should do self introspection again.
I – "Fine".
Baba – "What is your plan?"
I – "Baba I got cataract in both eyes. Please cure me."
Baba – "I know. But no miracle for a matured devotee. Undergo surgery. Your eyes will be cured. Next?"
I – "When I came here in my last visit I saw many gentlemen and ladies. Are they all your true devotees?"
Baba – "Not many of them. But they are longing for me. Poor people, that way, are simple to mould. As for these wealthy – it is difficult to remove their self-conceitedness, their attachments, their adulterous way of life and their showiness. For this reason, I have to bring them a little closer than the others and do the job. These are the persons who are running in the race for worldly happiness and go exactly where there is no happiness. Are not they also human beings? Once they start improving, they will be helpful to my mission. Wealth is not a sin!
I – "Baba we thousands of poor, hard working and honest devotees misunderstand. Actually, you do not meet many of them. They do not get anything except your darsan, that also from very far off distance and with great difficulty."
Baba – "I give close look at only such persons. I am always in the hearts of my common devotees. I do not put them away from my eyes even for a moment. I understand their needs and fulfil them. But I do not fulfil their wishes and demands! Many devotees' wishes are out of lust for wealth and envy. If I give them what they want it will be like allowing them to drown in the ocean of grief and unhappiness. Then they will resemble the devotees who come here. Those who are poor for want of wealth can remain poor. As for those who are wealthy, many of them are actually beggars. They move around holding costly begging bowls begging for peace and happiness. Therefore, how can I put my poor devotees to distress by making them only rich by wealth?"
I – "I feel it will be difficult for those poor devotees to understand and agree to this difference."
Baba – "Do you understand at least?"
I – "I do now."
Baba – "Then what you people are doing in the world? You just tell and try to show off how close a devotee you are of Sai Baba. Overcome this ego. For me all devotees are alike. The distance between me and all of them is the same. Actually, there is no distance. You people can only see geographically and compare the difference. It is the job of senior devotees to remain alert for removing these misunderstandings. Well you, what have you done in this direction?"
I – "I tell them very much. But I do not think that all of them are convinced."
Baba – "It is your fault. You lack convincing power. Compared to the wealthy, the awareness and understanding of the poor is very flexible. Always tell everyone that I am in them all the time. My purpose of calling them here is to re-charge their spiritual batteries. Just stop the comparison between far and near devotees. Devotion cannot be compared. Devotion is self made and a quality complete by itself. Next?"
I – "In these days sins, crimes, bribery, murders, lust for power etc. are on the increase in India and in other countries also. Innocent persons are killed. Where are the saviours, the Avatars, why are you not setting it right? We, the devotees, are also in a dilemma on such questions. Can you please say something in this context?"
Baba – "Sin and merit, good and bad, happiness and grief, life and death, day and night are not against one another. They always co-exist. They are inseparable parts of one and the same, complimentary to each other. When one is there, the other is not seen. Like the two sides of a coin – when one side of a coin is seen can you say that the other side is absent? Human life is also just like that. His birth is out of love. Love is his original nature. Love is his religion. If you consider love as day, then non-loving can be night. Absence of merit is sin. Absence of goodness is badness. Absence of happiness is grief. Absence of good conduct is bad conduct. That is why these seemingly bad qualities are not the basic qualities of a human being. They are his negative parts. Because of some reasons when his basic nature of love is eclipsed and the good qualities are not seen, that time it is night of badness or demerit, From the birth of civilisation till today and even in the times of avatars also, good people have always been in minority. This is the law of nature. In the Bhagavatgeetha it is mentioned that you have to protect the good people. Who to protect and from whom? The minorities are to be protected from the majority. The majority, the bad qualities being strong are not afraid of the minorities, the good qualities. Human being is the same. Good and bad are together and one. If all become good, how can they be compared and praised? To cut is the character of a knife. A doctor cuts to save life, a butcher cuts to take life. Both are human beings. Every person has got his inborn basic elements and instincts. When these qualities are blown to a bigger form, the situations you mentioned are created. But this is a passing phase. A type of venting out. This is also a quality of nature. And a human being is a small part of this nature (Prakruthi). No person can be 100% good or 100% bad. People are the same. Only the part that is seen varies. That which is seen can change or improve."
I – "Your devotees are not 100% good?"
Baba – "Every one is a criminal. Only what is seen or shown differs from person to person."
I – "I did not get it."
Baba – "You are the Principal of a law college. You have studied law and are an expert in it. Suppose tomorrow your son steals and you know it. Police arrest him.You will bail him out, is it not? When the case stands in a law court, will you get a lawyer for his defence or not? Don't deny. You will do this at any cost. That time you will also be a criminal! But there is no punishment for this crime! Due to attachment, to back up a criminal with the help of law is not a crime in terms of law. I have many devotees who have both qualities. Devotion and at the same time attachment to worldly things. Yet, I will not discard them. I will try to remove their attachment.
I – "But why don't you change today's chaotic miserable situation."
Baba – " Every Avatar had worked like a magnet. In the field of his aura, he pulls all the ferrous items unawarely. His boundary is not geographical but of devotion. Many people who come near to me, stay near to me may be at Puttaparthy or outside. Those who do not follow me criticise. In what way I can be related to them? Those who are rusted by mind and behaviour are not pulled up by this magnet. Well, if you try to remove this rust or at least wish in your heart, then this magnet can attract iron particles from anywhere.
Nature has given complete freedom to everyone as to how to behave. Who am I to change the laws of nature? An Avatar never interferes with laws of nature.
Although Avatar is for the common people and like the common people, yet he is much different and very powerful. To make them believe this, in exceptional cases he shows his supernatural powers this is also a law of nature. In every body the life force, nature's current of omnipotent God is flowing. In my case the voltage is much more.
You were saying that the proportion of crime and sin has increased. On what basis? In comparison with what? Does it not prove that in this society somewhere there are virtues and virtuous people. There is no other test or method of measuring.
Darkness cannot be seen without the smallest lantern or the smallest earthen lamp. Social darkness is there and it is seen. That means the small earthen lamp of virtues is burning somewhere or other. My job is to preserve the same."
I – "When will today's frightful situation change?"
Baba – "Rather than asking me when the situation will change, ask me when the man will change. I tell you man will definitely change. Now in this world his basic element, virtue of love, is eclipsed but not extinct. At the same time the small living lamps of love are still shining on this earth. Because they are small, night seems to be exceedingly dark and horrifying. In reality, night is not there. Light is the only truth. Light will spread every where when the time comes. This is the everlasting law of nature, i.e. to keep on flowing."
I – "At least to stop killing of innocent people, you will....."
Baba – "Why do you give so much importance to death? Life, to live, sign of life is for ever, everlasting and death is a pause for some moments. The time lag between two births is death! That should be the auspicious moment. The origin of your question is the passionate attachment to life. It is an ignorant question. In volcanic eruptions, earthquakes, storms, river floods and other natural calamities thousands, lacs of human beings, animals and birds die. At that time, will you ask the question why this happens?
Everyone considers that death is a sad incident. But as per nature's law of 'continuous change' it is unavoidable. Mankind's base instincts are swelling up. Very soon they will calm down. Then everything will change for the welfare of humanity. In my 'Sai Era' whatever I have to do, I will accomplish. Next?"
I – "Religious quarrels – why have they become murderous?"
Baba – "Religion and quarrel can't stay together. Where there is religion, there is no quarrel or war. The duty of any religion is to keep quarrels away, to uproot quarrels. That is the only religion of religions.
Religion is personal and not social. It is homely and not marketable. When religion remains personal and homely then only human relations exist, otherwise humanity will remain only as a crowd jostling each other."
I – "What does Baba mean by personal religion?"
Baba – "Personal religion means every human being's innate nature and that is love without selfishness, without any returns. For such religion there is no other name but love. No Avatar has given name of a religion to his teachings. Divine teachings are omnipresent and eternal without any geographical or public boundaries!
Hindu, Muslim, Christian, Sikh such todays names are not names of true religions. They have come out of the egos of those communities. Todays quarrels and wars are not religious quarrels and wars – they are ego quarrels and wars. Absence of love means enmity, envy, hatred, selfishness and murders. When love is eclipsed the community is eclipsed and suffers."
I – "Baba, what is the solution for this?"
Baba – "Demolish present religions (differences) and man will be truly religious."
I – "Will you be able to do this?"
Baba – "Of course. I am doing this only. Sai devotees have no other religion but the religion of love."
I – "Then why are you preaching all religions? Your own instructions, will they not be sufficient?" Is it not that all religious are being encouraged by your teachings?"
Baba – "Why all religions, because they preach only one thing – Love! If one understands 'Love' he need not take the support of religion. Once you reach the other side bank of the river, then why march pompously with the canoe on your head? I have brought all the religions together to uproot the differences between them, to dissolve into each other and become one religion of love! I do not teach anything different of my own. No Avatar so far has done that. All taught only one internal religion of love.
Mathematics is a single subject. Although there are many teachers teaching it in their own way mathematics remains the same. It does not get multiplied."
I – ''Do the governments lack in this for finding out remedies?"
Baba – "Where is the government? There is only exploitation. Have you finished?"
I – "Last question, Baba. When you are a reincarnation of the Avatar of Shirdi Baba, how is it that you never visited the place of your previous Avatar?"
Baba – "I am omnipresent. In that Shirdi also comes. Where is the question of my going there, when I am already there?"
I – "Are you there in this form or of Shirdi Baba?"
Baba – "Of course in this form only. The vitality of Shirdi Baba has merged into me. Then, how can the Shirdi form be in life? Todays form of Shirdi Baba is I only."
I – That means, without your vitality the Baba of Shirdi is not there. Only you are there also."
Baba – "Such a simple thing also you cannot understand. Don't you believe in reincarnation?"
I – "Of course, I do because reincarnation is a scientific truth."
Baba – "Do you agree that I in this body is reincarnation of Shirdi Baba?"
I – "One hundred percent."
Baba – "Then as per the rule of rebirth, how can one life be in two forms or two bodies at the same time? As per this rule, I always say "I am in all Avatars and all Avatars are in me". Forms are many, physical frames are many, but the vitality of the life is only one. That is the only eternal religion, eternal truth!"
I – "That means it is pointless for your devotees to go to Shirdi."
Baba – "Again wrong question. Go to Shirdi or Ram Mandir or Krishna mandir, Masjid, Church. Go wherever you feel better. I am everywhere in everybody. I am omnipresent. Those who do not believe me and believe Shirdi Baba, when they visit Shirdi and see Shirdi Baba, I take that form to satisfy them. For Siva devotees I become Siva. Like that I become Ram, Jesus and Mohammed. I am in them all. This is the truth of eternal non-duality. This is the only world religion, the religion of love."
I – "But then?"
Baba – "Enough now. You talk too much."
I – "Last one doubt. You said you are in that form at Shirdi. Then how is it that at Shirdi five star hotels, permit rooms, gambling and improper behaviour have been allowed? For your darsan over there, why the devotees have to pay by way of abhisheka, prasad etc. If it is perfectly alright there, then why it is not done at Puttaparthy and here also? Why your photographs and books are not available at Shirdi? I see photographs and other articles of Shirdi Baba here."
Baba – "That is a fault of the management. Not of Shirdi Sai or me or the devotees. Those who are allowing these and those who are taking part will bear the consequences, and go through the cycle of trials tribulations. A true devotee will not be like that. At crowded places counterfeit coins are also circulated with true coins. Such things take place at all places of pilgrimage also. They will bear the consequences. Although I am every where, here I am living in human form. At other places, only my divine waves move. This is also my nature." "You should not compare and say Senior Sai and junior Sai etc. Understand the Ultimate truth of non-duality. That truth is love. Love is one without a second."
Then Baba stood up. Hurriedly I bowed at his feet and came out. The interview lasted for more than one and half hours. Outside my friends were still sitting and waiting anxiously. They asked me "No interview for us?" I replied "Not only you but today Baba has given interview to the whole world! Let us go."
Baba did not answer fully my question as to why he does not go to Shirdi. I feel that the answer is that he does not want to impose himself on others beliefs. Whenever devotees behave in a disorderly manner and rush towards him, Baba just turns his back on them and walks away. Well, this may be reason why he does not visit Shirdi. Of course, this is my opinion. Baba only knows the truth.
Today in June 1993 I am writing out of memory the discussions I had with Baba in the interview of September 1990. I had not done audio recording or noted down the points at that time. I am correctly writing down all the questions I asked. I may be making some errors in writing Baba's replies. I may not have translated them correctly into Marathi and also I may not have correctly understood what Baba said. But all these thoughts are Baba's only. I have been listening to Baba's lectures for the past fifteen years. I have also read books written by devotees of Baba. All these have led to forming a firm opinion in my mind, and may have affected my memory in writing this interview also. If any devotee finds some sentence improper or paradoxical, he may please take it as a lapse in my memory. Why I am saying like this here is because I have noticed similar flaws in the books written by some devotees about Baba. In some books even false and exaggerated writings have been done about miracles. Of course, Baba knows this all. The proof of this is that on such books you will not find Baba's written blessing. Baba had already blessed in writing my first book.
In the interview I was aware that Baba will not do anything about my cataract problem. I have heard of similar experiences by Dr. Gokak and Sri Kasturi even. Yet, I dared to ask Baba to cure me, not with a liking for miracles, but to save the surgical operation expenditure of Rs. 12,000/-. I will now tell you what has happened afterwards.
Dr. Bhausaheb Paranjape, well known ophthalmologist of Sangli, is a friend of mine. I wanted my eye surgery to be done by him only. He was reputed to be practical, efficient, very strict and uncompromising especially about his fees etc. But my decision was firm. At that time I was drowned in debts. The surgical operation on one eye was performed on the day fixed earlier. On the day of discharge, I came with the required money. That morning the doctor came, changed the bandage and said "Go now" and went away. We collected our baggage and vacated the room. When my son went to the counter for paying the bill, the sister told him "Bhausaheb has ordered not to charge you fees." When I heard that, I remembered Baba. Through the Doctor, Baba performed another miracle. After a post-operation check up, I asked the Doctor "It is well known that you never do free surgery or reduce your fees. Then why am I the only exception?" The Doctor answered "It is my wish and pleasure. I did not feel like charging you any fees. But I can't explain to you why I felt like that." After one year, the second eye was operated on and lens implantation was also done free of cost!
---
Not today, but any day, it is beyond the capacity of any one, however hard he may try, by whatever means and for which ever period of time, to assess My true Nature.
BABA

---
9. FAREWELL
Today, 22nd May 1994, I am writing these words of farewell on completing this book, 'Satya Sai Satya Sakha' (in Marathi).
During the interview in September 1990, Baba told me to write a book in English after completing this book in Marathi, which will be published by Prasanthi Nilayam. I am not sure when this will take place. It will happen according to Baba's wish only.
(In this Marathi book, I wrote some sentences in English. I request those who are conversant with the English language to explain these sentences to those who are not conversant with English).
(Prof. Korbu merged in Baba on 27th May 2000 [Friday night / Saturday morning] at his residence at Jaisingpur.)
A souvenir titled "Leaves of love at the Lotus feet of Bhagawan Sri Satya Sai Baba" was published in English on the 65th birthday of Bhagawan Baba. It contained articles written by well known devotees world over. The first article was written by Sri Deen Dayal Sharma, President of the Republic of India, Sri Shivraj Patil, Speaker of Indian Parliament, Pandit Sri Bhimsen Joshi, Vocalist, and Sri Sunil Gavaskar well known cricketor, also contributed their articles. Along with the articles written by such eminent persons, Baba has shown his benevolence to me by including my article in this souvenir.
Well, thank you very much and Khuda Hafiz (and let God bless you)!

---

Wrist watch manifested by BABA & given to the second son of Prof. Korbu.
---
It is essential to please God and win his grace by regarding Him as a friend and not indulging in excessive praise. For this, supreme Love is the primary means. This Love should be firm and unchanging, unaffected by trials and tribulations and the vicissitudes of life. It should be realised, however, that there is no greater friends for anyone than God. He is beyond the reach of praise or censure. He does not give up man on the ground of the latter's failure to come up to His expectations. That is why God has been given the appellation, "a good friend (suhrid)." God desires no offerings from any devotee. God is the only one friend who confers benefits on devotees without expecting any return. Nevertheless man does not readily accept such a friend. Only the man who accepts God as such a friend and is guided by His advice can understand the full meaning of Divine friendship. Faith of this nature alone constitutes true Supreme Knowledge (Jnana).
- BABA
Religion today has become rendered meaningless and valueless by all kinds of misinterpretations given by sectarian and perverse exponents. The basic meaning and purpose of 'religion' consists of two parts: 're' meaning 'again' and 'ligio' meaning 'to come together'. That is to say, 'reuniting with God is religion'. People consider religion as a bundle of doctrines do's and don't to be followed strictly. This is totally wrong. The sacred aim of religion is to remind man of his divine origin and help him to reunite with God.
- BABA
---
Translated from Marathi by: Dr. L. Siva Prasad, Mr. Vijay G. Vadnere.

Publisher: Mrs. Saltanath (Naseem) Razak Korbu
Plot No. 1, 'Sai Baksh' Kachare Society, Jaisingpur, Pin Code – 416 101
Ph. No. (02322) 25825.
(Books are available at the above address)

1st Edition: 15th August 2002.

---
---