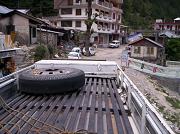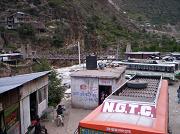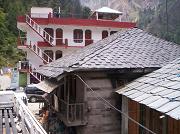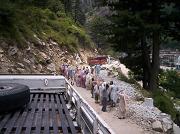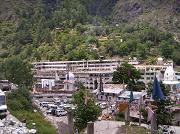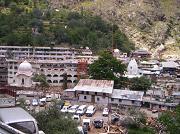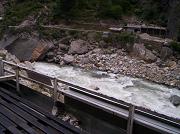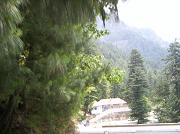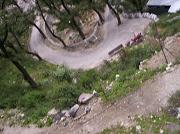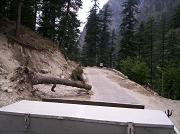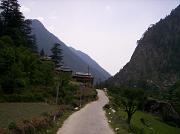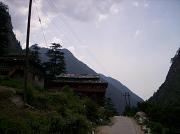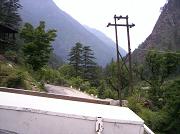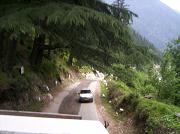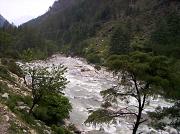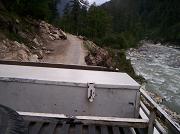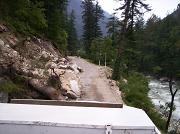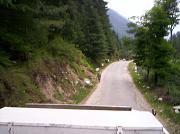 Rama Temple of Manikaran
   The temple has been built in a combination of pyramidal and Khash style. Raja Jagat Singh built it in 1653 AD in place of two Shiva temples. Kullu Raja Jagat Singh (1637-1662 AD) demanded pearls from Durga Dutt of Tipri village which he never had. Durga Dutt incurred self immolation with his family, fearing the royal wrath and cursed him for his cruelty. The Raja was disturbed by this incident. He felt himself guilty conscious and left even his food. Under the advice of Kishan Dass Pehari. to wash away the curse, he installed at Manikaran, the famous idol of Raghunath ji. It was brought by Damoder Dass from Tret Nath temple of Ayodhya. It is believed that this idol was made by Ram Chandra himself for use in "Ashwa Medh Yagna". It is said that the Raja used the holy water (Charan Amrit) of the idol for 42 days and was fully cured. The idol was taken to Kullu in 1660 AD when Kullu (Sultanpur) was won and made the Capital of the Kingdom and in its place a replica was put over here. In 1662 AD, Raja Jagat Singh came to Manikaran for meditation. After eight days, he suddenly died here. His bust, since then, has been kept here in Hanuman temple, in front of Ram Mandir. Thereafter, a free community meal (Tangar) was served to the people for several years in his name. The revenue income from six villages which was calculated about Rs 600/- at that time was given permanently to the temple to meet the expenses. Raja Man Singh (1672-1717AD) and Raja Dalip Singh (1870-92 AD) repaired the temple in their time. A trust has been running the management of the temple at present. The trust restarted free meal system (Langar) here, constructed new building of 40 rooms and three halls and arranged 500 beds to provide free accommodation to the visitors of the temple. The porch of the temple has also been built recently. There is arrangement of holy bath with in the temple premises, the Ram Kund (Tank) is meant for males and Sita Kund for females. Next to this place, a big Tank has been made for the bath of General public (only males). It is said that once there was a hot water spring which rose upto 14 feet but in the earth quake of 1905, this spring vanished. There is Shiva temple on the eastern side of it which has also been recently built. There is a boiling water source near the tank on its eastern side, where rice can be cooked in small bags. The discharge of water of this spring is greater and the depth of the tank is also comparatively more.
   Hanuman Temple
   This temple is in front of Rama Temple facing eastern side. Hanuman was a great devotee and follower of lord Rama who was always eager to serve him and carry out his order. Here also, he is present as his devotee. This temple has been reconstructed in the year 2006 A.D.
   Naina Bhagwati Temple
   It is said that Lord shiva had opened his third eye here from which Naina Bhagwati appeared. So there is a temple of Naina Bhagwati at Manikaran. It has been built in khash style, square at the bottom, sloppy roof of slates at the top and Verandah on four sides. The goddess has a chariot. All the ornaments of the goddess have been made out of the silver extracted from the local mines.
   Shri Krishana Temple
   Raja Jagat Singh had adopted Vaishnavism. The 'Bairagis', there after, regularly visited the village. This is the temple built by 'Bairgis' for worship of Lord Krishan. There is a tank known as 'Suraj Kund' within its premises for a sacred bath for the general public.
   Raghunath Temple:
   It is a pyramidal style of temple with a slate at the top. It has very clean premises. This temple is below the surface level of the place. Due to floods the surface of Manikaran rose and this temple was half buried under the silt brought by the flood which was later removed. In the North-West corner, there is the only cold water spring of this place. All other water springs contain hot water. In side the temple, there is an idol of vishnu seated on Kamalasan (Lotus-Throne.) There is no porch (Mandap) in front of the temple. Lord Ram was the incarnation of Vishnu. Thats why this Vishnu temple is called as Raghu Nath temple.
   Mani Mahadev Temple:
   This is the oldest temple of Manikaran. It is situated on the left side of the path leading to Shiv temple. It is built in a Khash Style square at the bottom and slate sloppy roof at the top. It has Verandah on three sides and its door opens to the western side. The Shiva Linga has been installed inside the temple. It is said that goddess Parvati received back her ear jewel with the blessings of Lord Shiva and so this temple was erected. The local people come here for worship on special occasions.
   Shiva Temple
   It is the main Shiva temple of the place. It is believed that the ear jewel of mother Parvati appeared back again here on earth when thrown with a hiss by Seshnaga. In front of the temple, there are two boiling water small tanks where the people cook rice. The shopkeepers out side the premises sell small bags containing rice and the visitors love to boil rice and see themselves the miracle of nature. Underneath the court yard the hot water springs flow. As such, the floor slabs become very hot. One can not stand bare feet for a few moments there. So some wooden planks have been kept to make it convenient to the visitors to go upto the temple and stand near the tank for some time. An octangular new temple has been built in place of two old temples. Inside it Shiva Linga has been installed with the idols of Shiv and Parvati seated together, in the back ground a huge Nandi bull of brass in a sitting posture is present before them as usual. There is a closed room below the temple, underneath the floor of which,the hot water is running. This room is meant for the patients who want to be treated for rheumatic pains. The temperature of the room is high and one gets perspired in a few minutes. The river Parvati with ice cold water flows touching the eastern side of the temple. This is the most sacred place and the people are allowed to enter bare feet only. Many anecdotes relating to the miracles that happened here are told about. This place is considered most suitable for meditation.
   Shri Gurudwara Sahib Manikaran:
   Sant Shri Narayan Hari of Kamalpur (Pakistan) came to Kullu with his family in 1947 AD. After staying for some time here and there, he finally came to Manikaran. The Place of Gurudwara was a neglected piece of land at that time. Only some hot water springs existed there. Sant ji started some building work here. His selfless service, polite behaviour and devotion towards his cause won him a great name and fame. The funds poured in which he properly utilised. At present in Gurudwara, there is arrangement of boarding and lodging of 4000 persons at a time and there are tanks for sacred dip with in the premises separately for males and females. According to the Janam Sakhi Page 165 (History of Khalsa) written by Giani Gian Singh, Guru Nanak visited Manikaran on 15th Asuj in the year 1574 (Vikrama Era) with Bhai Bala and Mardana. At page 492 of Janam Sakhi written by Bala ji there is description of Manikaran. But the local people do not consider it substantial and claim it to be inserted into the books at a later stage. However, Santji called this place as "Ichha Purni Tirth" (A place of pilgrimage where all the wishes are fulfilled). He also called the place as Harihar Ghat. The Gurudwara is situated on the right bank of the river. On the left bank there is a bathing tank and parking for cars. There is a bridge from here to cross over to Gurudwara direct. It is a seven storey building. To go to Gurudwara one should drop at the waiting shelter built on the road side.
   At a distance from gurudwara, there is an artificial cave built by santji on a small hill. He used to pass about 40 days in a year in meditation here. Sant Harihar Narain died on 22nd February, 1989 in a drowning incident. Now his eldest daughter Deva ji has succeeded him. She is also fully devoted to her cause and leads a saintly life. Shri Ram j i, the husband of the younger daughter Harbhajan Kaur, has been working as a manager here.
   Facilities at Manikaran
   There are hotels and Guest houses in the private sector here. However, there is one forest rest house near the bus stand. At Manikaran, there is a small bazar where all the things ot need are easily available. Tourists can find a large variety of gift items in this bazar for their choice. The buses for Bhuntar are available after every an hour. There are facilities of police post. Post Office, Banks and a Govt. Dispensary.
   Rupi Valley beyond Manikaran
   The regular bus plies upto Barshaini 15 km. from Manikaran and beyond it the journey is either on foot or on horses.
   Braham Ganga Sangam
   The description of Braham Ganga comes in the third chapter of Brahamand Purana. This is a rivulet situated about 200 meters far from Manikaran on the right bank of Parvati. It has been mentioned as "Paap Nashni" (destroyer of sins) river. At the confluence, there was a temple of Ardh Narishwar which was washed away by the floods of 2000 AD. Here too some hot water springs are found. There is a plan to construct a power project over the rivulet at the cost of Rs. 20 crore which will produce one Megawatt electricity on completion. This rivulet rises from Braham Sarover situated on Harinda parbat. As per a legend Brahma meditated here near this lake on Harinder parbat (mountain)
   Uchich
   It is a small village on road side only 4 km. from Manikaran. Once this place was famous for its silver mines. Silver is called as "Rupa" in the local dialect. So the valley is called Rupi valley. These mines were on the river side near the road. Now these have been covered by bushes. The extraction of silver here was not commercially beneficial. It was inferior in quality and lacked ductility. It is said that gold was also found here and there in these mines.
   Rup Ganga
   It is also a tributory of Parvati river four km. away from Manikaran. The place where it mingles with Parvati is considered as very sacred. The dip here in the water is considered having absolution effect (washing the sins). The people come here specially for taking a dip on 20th day of Bhadon. A power project is under construction on this rivulet too.
   Pulga
   Pulga is 14 km. from Manikaran. It is the most beautiful spot of the valley with pine forest in the back ground. Fields, all around the village, add charm to the view. Now the place has been connected by a road. There are small shops where all sorts of things of need are available. There is one forest rest house here too.
   Barshaini
   This village is 15 km. from Manikaran. The regular bus plies to this place and this is the last bus station of the valley. Barshaini is one of the main villages of the valley which has gained special importance due to Parvati power project. The temple of a local god Jagtham is here. This god is one of the main eighteen gods of Kullu valley. All the ornaments of this god also are said to have been made of locally extracted silver. The village has the facility of a post office, school and a small bazar where all sorts of things of need are available. There are small restaurants and tea stalls to meet the catering need.
   Rudranag
   Rudranag is about one kilometer from the last village Nakthan and 17 km. from Manikaran. There is water spring which falls in the shape of a hood of cobra from a rock which has some snake like grooves. It is a very sacred spring and many gods of the valley visit the place to take holy bath here with their followers. An inn has been built here for the persons accompanying the local gods. A free langar is run to provide food to them during their stay. It is a very clean place and a very good spot for meditation with magnificent view all around. It is said that particles of gold come out of the spring some time.
   Kheer Ganga
   Kheer ganga is 4 km. from Rudranag. The path passes through the forest with a steep climb. Kheer ganga is located on a steep meadow. It is a hot water spring. The white sulphur particles are seen sticking and floating like milk cream every where in the flowing water. Due to it, the water gives the milky look. The water source is quite large and is not very hot. For a bath, there is a tank. Legend goes that Kartikya, the son of lord shiva practised penance (Tapsya) at this place. To protect his son from hunger and thirst, lord shiva struck this place with his trident and kheer ganga began to flow. So, it is a place of pilgrimage too. There is an inn for night stay and free community meal system is also available.
   Pandupul
   The next destination is Pandupul. The path is narrow, zigzag and difficult. There is no habitation beyond Kheer Ganga. After about 10 km. from Kheer Ganga, the area is arid and without trees. Pandupul is a natural rock bridge. The river Parvati flows here underneath the rocks. Legend goes that the Pandvas built this bridge during their exile. Here is a cave in which 15 to 20 people can stay for the night. The height of this place is 3700 meters. It is about 20 km. far from Kheer Ganga. It is also the shelter place for the shepherds and people coming without their own tents.
   Man Talai
   Man Talai is situated at the height of 5225 meters and is about 12 km. from Pandupul. Here is a large lake having circumference of about one km. The water of melted snow from all sides falls into it. So, it is very cold. The lake is not very deep but its water is very transparent. The debris brought by erosion and glaciers accumulate in it. Parvati river rises from here. There is no shelter place here for the visitors coming without tents. They have to return to Pandupul cave.
   FAIRS AND FESTIVALS
   Baisakhi Festival
   A bath at the place of pilgrimage is a part of our culture. A large number of people come to this place to have a holy bath on Baisakhi day. It is believed that sins are absolved by such bath. Due to rush of people, there is great hustle and bustle at Manikaran and auspicious day becomes a sort of fair. The shopkeepers have brisk business.
   Fair of Bhadon Ki Bis:
   20th day of Bhadon month (Bikram Era) is considered very auspicious for a bath at the places of pilgrimage or on the confluence of the rivers in Kullu. It is believed that the holy bath on this day brings good health and blessings of gods. The medicinal plants and roots ripe by now. After the bath people dig out or collect some medicinal roots and plants for their use. It is also believed that the water contains the effect of these medicinal plants and roots and cures skin diseases. Rama temple committee organises a musical concert for two days every year. Many musicians and singers of repute participate in it and entertain people with their art.
   Dussehra (Dasara)
   The Dussehra is celebrated in a befitting manner for seven days at Manikaran. The dates of celebration are the same as of Kullu Dussehra. About ten village gods participate in the festival. Kasol Narayan, Jagtham of Barshaini and Naina Bhagwati of Manikaran are the main gods out of them. The idol of Rama is taken out of the temple in a procession. The chariot is decorated and taken to the other end of the bazar by the devotees with idol of Rama seated on it. On the last day, a pitcher is placed on a rock across the river. Any person hitting this mark with a piece of stone is rewarded by the temple committee. The broken pitcher is the symbol of the death of Ravana and his kins. This marks the end of Dussehra. No animal sacrifice is given here.
   OTHER CONGREGATIONS
   Buddha Purnima
   Sant Hari Har Narayan believed that the right date of birth of Guru Nanak Dev ji falls on the day of Buddha Purnima.
   To celebrate the day, a seven day function is organised in Gurudwara at Manikaran, for which the singers of repute, the learned persons and parties of musicians are invited from the plains. The religious people from far and near come to Manikaran on this occasion to listen to the religious discourses and concerts. In fact, it is a congregation of the followers of sant ji.
   Death Anniversary of Sant ji
   The death anniversary of Sant ji falls on 22nd February. For a week a function is organised from 16th February to 23rd February every year in his memory. The followers of Sant ji assemble here in a large number to pay homage to him. The singers of repute and learned speakers are invited on this occasion. The congregation turns to be quite large. The followers of Sant ji take a vow to lead a path of purity, austerity and service as taught by him through out his life.